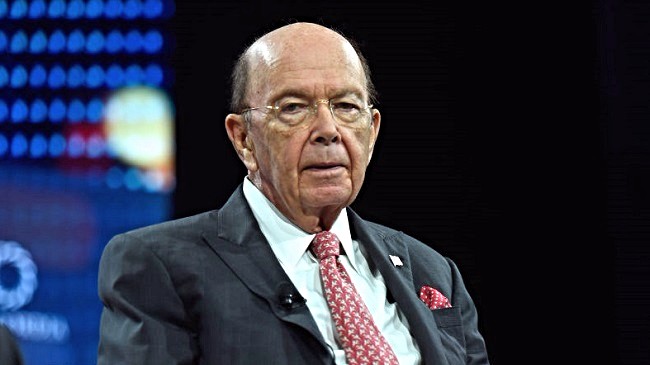 In mid-October, Commerce Secretary Wilbur Ross found himself in hot water after Forbes cornered him over $2 billion that was missing from the financial disclosure forms he filed ahead of his Senate testimony and confirmation. Previously, the potential Trump cabinet member told his congressional interviewers he would "be quite scrupulous about recusal and any topic where there is the slightest scintilla of doubt." Following Sunday's so-called "Paradise Papers" leak, however, it seems the American investor maintained secret financial ties to members of Russian President Vladimir Putin's inner circle.
Ross kept investments in Navigator Holdings, a shipping company he once maintained a controlling investment in that just so happens to do business with Gennady Timchenko and Kirill Shamalov's Russian energy giant Sibur. Timchenko and Shamalov's indirect connections to Ross are interesting here because, among other things, they are quite close to Putin. How close? Aside from being the Russian president's judo partner, the former is one of his closest friends and is, therefore, subject to American sanctions. The latter, meanwhile, is Putin's son-in-law — he married the Russian president's youngest daughter.
So despite Trump's outrageous "America First" inauguration day speech in late January, Ross — who was confirmed as commerce secretary in late February — has "retained an investment in the partnerships valued between $2 million and $10 million." As for the source of this explosive revelation, the "Pardise Papers" first came to light on Sunday thanks to the International Consortium of Investigative Journalists, the same group that won the Pultizer Prize for its coverage of the "Panama Papers" leak in 2015.
Per NBC News, the leak consists of "7 million internal documents of Appleby, a Bermuda-based law firm," and names "[m]ore than 120 politicians and royal rulers around the world… as having ties to offshore finance." Gary Cohn, Trump's chief economic advisor, and State Secretary Rex Tillerson are also named in the trove of leaked documents. However, as the Times report suggests, neither appears to have done anything illegal as far as those who've read the documents can tell.
(Via New York Times and NBC News)