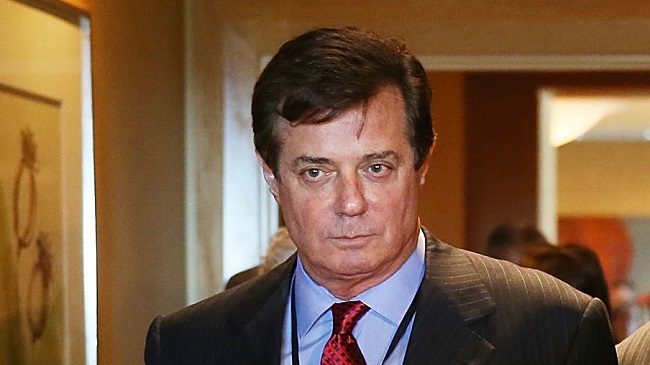 With all the recent developments of Special Counsel Robert Mueller's Russia probe for the Justice Department, it's been easy to forget that former Trump campaign manager Paul Manafort is out on bail awaiting his trial for charges like money laundering and conspiracy against the U.S. However, Manafort might lose his bail after allegedly ghostwriting an op-ed about his case (ostensibly for the Kyiv Post in Ukraine) with a man who has ties to the Russian intelligence service, according to a new filing by Mueller's investigators:
The filing asks for the court to revisit a bail agreement Mueller's office and Manafort's lawyers made jointly last week. The court had not yet approved a change to his $10 million unsecured bail and house arrest.

"Even if the ghostwritten op-ed were entirely accurate, fair, and balanced, it would be a violation of this Court's November 8 Order if it had been published," prosecutors wrote. "The editorial clearly was undertaken to influence the public's opinion of defendant Manafort, or else there would be no reason to seek its publication (much less for Manafort and his long-time associate to ghostwrite it in another's name)."
According to Bloomberg, Oleg Voloshyn, a former spokesman for Ukraine's Ministry of Foreign Affairs, has claimed authorship of the op-ed, saying he wrote it of his own initiative and only asked Manafort for a fact check and some editing help.
Manafort, who pleaded not guilty to all charges, and his legal team had reached an agreement that would have freed Manafort from house arrest and GPS monitoring. The former Trump campaign chair, who prosecutors have argued is a flight risk, was earlier ordered to "refrain from making statements to the media or in public settings that pose a substantial likelihood of material prejudice to this case," so these op-ed ghostwriting allegations won't help his chances of maintaining the bail agreement.
Also bad news for Manafort? Brian Bonner, editor of the Kyiv Post, told Bloomberg that he had no intention of publishing the op-ed and called the piece "highly suspicious" and "blatantly pro-Manafort."