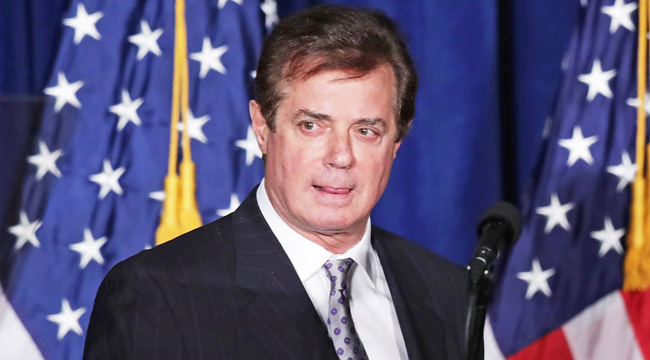 Earlier this week, Sean Spicer's desperately tried to erase the Trump campaign's entire relationship with former Campaign Chair Paul Manafort, and it's easy to see why. As if on cue, bad news on Manafort began dropping like crazy. This included fresh allegations of money laundering in Ukraine that was related to the secret ledger of funds. In addition, Manafort's working relationship with a Russian oligarch — to influence U.S. politics and news coverage — raised many eyebrows. However, Manafort is truly looking like a deer in the headlights after a new Associated Press report, which says the U.S. Treasury is digging into his offshore transactions.
Well, there's certainly a lot to investigate in terms of the sheer shadiness and quantity of Manafort's financial dealings. Manafort reportedly earned $10 million per year while working for the Russian Ooigarch, and over $12 million more appeared in the secret Ukraine ledger. Even crazier are the hacked text massages between Manafort's daughters, who purportedly dropped the term "blood money" while discussing their father's financial affairs. Now, what of this offshore banking business? Oh boy:
U.S. Treasury Department agents have recently obtained information about offshore financial transactions involving President Donald Trump's former campaign chairman, Paul Manafort, as part of a federal anti-corruption probe into his work in Eastern Europe, The Associated Press has learned.

Information about Manafort's transactions was turned over earlier this year to U.S. agents working in the Treasury Department's Financial Crimes Enforcement Network by investigators in Cyprus at the U.S. agency's request, a person familiar with the case said, speaking on condition of anonymity because the person was not authorized to publicly discuss a criminal investigation.
Every time we discuss Manafort here, I end by saying something to the effect of "this ain't over yet," and that's doubly true with this news. It boggles the mind to realize that Donald Trump hired him as campaign chair without — it seems — a vetting process. At this point, multiple Trump associates have been revealed to have had sketchy dealings with the Russian ambassador, but Manafort's outrunning them all. He also may be having money trouble, if clues can be found within his massive home-equity loans on several NYC properties, including a Trump Tower residence. And one of the hacked 2015 text messages from his daughters read, "He is cash poor right now. And now Ukraine is late in paying him."
So yes, there's probably more bad news where this came from, especially if Manafort's offshore banking records confirm all existing reports and more.
(Via Associated Press)