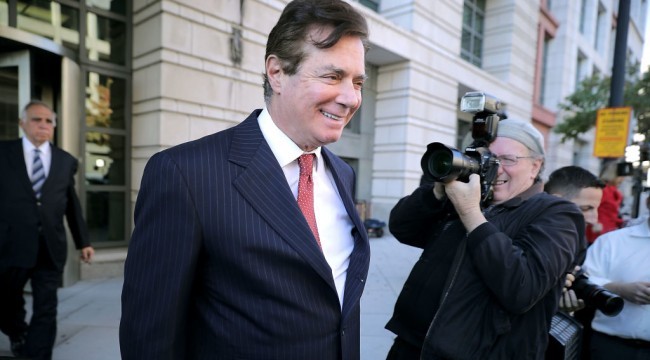 Since getting his bail agreement amended to avoid house arrest, former Trump campaign chairman Paul Manafort was caught potentially working on an op-ed that appeared to violate terms of his bail. Specifically, it was argued that Manafort's apparent involvement meant he was litigating his case in the press. The accused is now taking his most drastic step to combat the charges against him — conspiracy against the United States and money laundering — by filing a lawsuit against Special Prosecutor Robert Mueller, Deputy Attorney General Rod Rosenstein, and the Department of Justice.
Manafort reportedly wants all actions taken by Mueller as special counsel to be "set aside" because, he alleges in the suit, Rosenstein overstepped his power as deputy attorney general when he appointed him. (This despite the fact Rosenstein is the acting attorney general in all things Trump campaign-related since Jeff Sessions recused himself.) According to CNBC:
The suit alleges that Mueller has strayed beyond the scope of the investigation he was authorized to pursue, and argues that the charges filed against Manafort have nothing to do with the 2016 presidential election that spurred Mueller's appointment.

"The actions of DOJ and Mr. Rosenstein in issuing the Appointment Order, and Mr. Mueller's actions pursuant to the authority the Order granted him, were arbitrary, capricious, and not in accordance with the law," the suit reads.
However, many experts do not agree with the central tenets of Manafort's lawsuit. His trial for a number of charges is set to begin in May.
(Via CNBC)