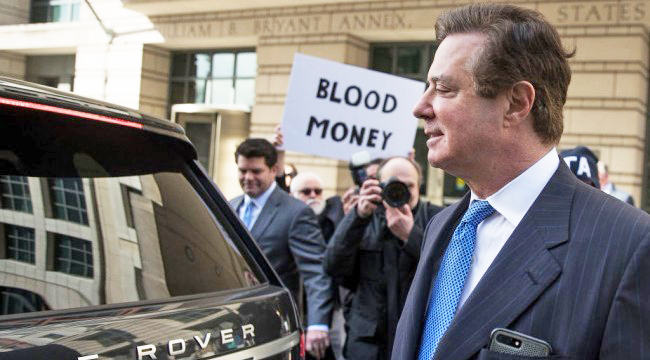 Last week, former Trump campaign manager Paul Manafort received an additional 32 indictments, that, going along with the previous charges he faced, paint the picture of an unregistered foreign agent operating an international money laundering scheme. The very next day, Manafort's associate Rick Gates, himself charged under the new indictment as well, capitulated to special counsel Robert Mueller's team and made a plea deal, citing family concerns as one of his reasons.
Anyone hoping that the additional screws being put on Manafort would change his tune is out of luck, though, as Manafort has pleaded not guilty to the new set of charges in the U.S. District Court for the District of Columbia. During the hearing, Manafort was reprimanded by Judge Amy Berman Jackson for violating a gag order by making a public statement about Gates' guilty plea in which he essentially said he was disappointed in Gates for giving up:
"I can certainly understand the impulse to not let that go by without asserting your innocence," Jackson told Manafort, referring to Gates' plea and "hundreds" of news articles about it. But it can't happen again, she said, or she could hold him in contempt.

Manafort's attorney, Kevin Downing, told the judge his client would appreciate more guidance from the judge on what he can and can't say publicly. He also said he plans to file a motion challenging her order.
Though anything can happen between now and then, the prosecution and the defense have also agreed to a September 17 trial date, right in time for the midterm elections.
(Via CNN and Associated Press)