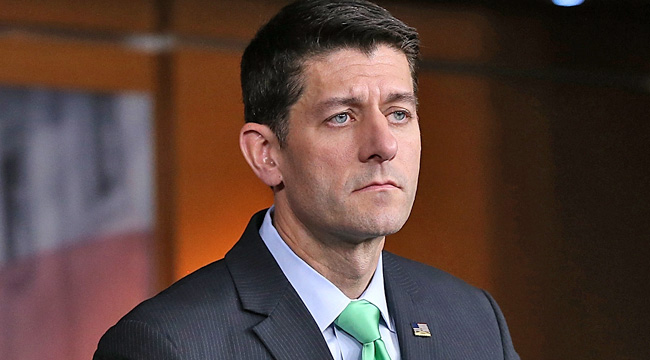 House Speaker Paul Ryan's days in his current job position may be numbered. The revelation comes on the heels of several Republicans telling The Hill he will potentially step down after the election.
Ryan's reign as the speaker has been tumultuous one. The Wisconsin representative seemed reluctant to take the position at first, and matters grew more complicated when election season began. Ryan has had to walk a fine line of preserving the integrity of his party attempting making sure they don't lose their majority. And Donald Trump has not made that situation easy for him. Every time Trump has said something, Ryan has had to both admonish him for his statements while still supporting him for party unity.
Those responsibilities may be over soon, as The Hill reported Ryan may be stepping down from the position after the election. The Hill talked to four House Republicans who said Ryan faces an uphill battle of securing the 218 votes he needs to secure a full two-year term as speaker. Ryan spokeswoman AshLee Strong said Ryan is currently focused on helping the GOP maintain the majority in the lower chamber right now and not thinking about the future: "He is running. The Speaker's only focus until Election Day is defeating Democrats and protecting our majority, and nothing else."
One Republican lawmaker said the election is playing a major part in his decision whether or not to stay. If Clinton wins, some members of the GOP may blame Ryan for it, and a fresh start may be what is best for him right now.
"Those who talk to Paul say he is all in to stay Speaker," the lawmaker continued. "But if you talk to members from the South, many will struggle to vote for him — even though they like him — because their constituents are furious" over his treatment of Trump.
This year's elections may present a fascinating turn of events, long after the day's voting is complete.