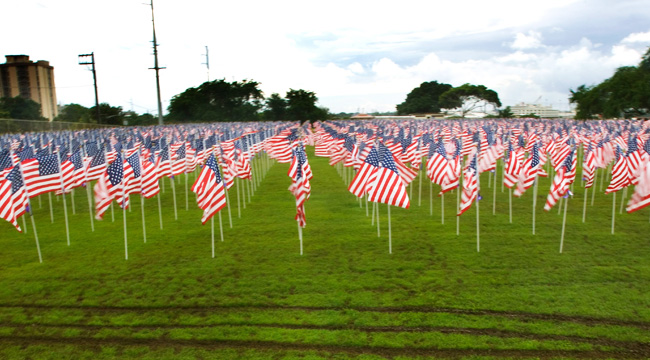 As the 75th anniversary of the Pearl Harbor attack approaches, families of some sailors who perished on December 7, 1941 are starting to get some closure. This year, the remains of more than 20 sailors were identified (through DNA testing) and are being sent home to their families and Arlington National Cemetery.
To set all these wheels in motion, some roadblocks occurred. In the case of soldier Ed Hopkins, his family lobbied with the help of POW advocates to push for him to be identified. The Los Angeles Times reveals that the identification process was difficult for one more major reason:
It has been painstaking work for the forensic anthropologists in the laboratory in Hawaii to put the skeletons back together. For example, DNA testing revealed that one casket thought to contain five sets of remains actually held remains of about 100 people.

"Due to the commingling, we are still working on trying to individuate remains back to specific people," said Debra Zinni, the laboratory manager, and forensic anthropologist, who has also worked on mass graves in the Balkans. Her staff starts with the skulls, which are relatively easy to identify with dental records, then moves on to the limbs, taking accurate measurements to make sure the left and right side are close to mirror images. DNA samples ensure matches are accurate.
But the story does have a happy ending as the identified soldiers will be reburied with full military honors. Seventy-five years after the Japanese attack on Pearl Harbor — which killed a total of 2,402 Americans — Hopkins' family is relieved that his remains are finally coming home.
(Via Los Angeles Times)