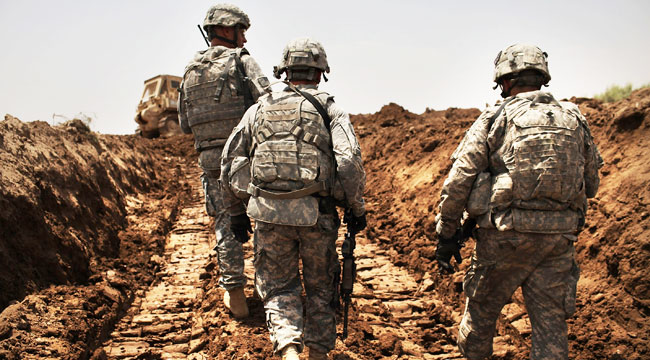 In late July, President Trump unilaterally (on Twitter) banned transgender people from serving in the military. In doing so, he shocked almost everyone, including top military leaders of all branches, who were "blindsided" by the announcement and refused to enforce it until ordered to do so. Trump later signed an official order that directed the Pentagon to ban transgender service members from "openly serving" by March, 23 2018. Exactly how this was to happen was left up to the Department of Defense (DoD), which has now issued interim guidelines while they figure things out.
The process is, of course, proving to be a difficult one for the DoD to navigate. Late last week, spokesperson U.S. Army Col. Rob Manning stated that transgender service members can "re-enlist under existing procedures" while any interim guidance is in process. And on Monday, the accompanying Pentagon interim guidance surfaced in a memo that opens with the following line: "First and foremost, we will continue to treat every Service member with dignity and respect."
The words "dignity and respect" are part of a central Army Command Policy, but their inclusion at the top of this memo may speak to the doubtful air with which the Pentagon will implement Trump's transgender ban.
The memo is a brief one, only spanning one page. It provides for current transgender members to continue their service for the next six months, at which point, they could very well be booted from their careers. In addition, the memo allows for those service members who receive a gender dysphoria diagnosis to receive treatment while the interim guidelines are in effect. The document also specifies that no new sex reassignment surgeries will take place after March 23 unless a course of surgical treatment is already in place and "to the extent necessary to protect the health" of that service member.
Overall, it sure sounds like the Pentagon is subtly shading this ban, but they can't do a darn thing about it. And depending on the figure one cites, anywhere between 6,000 and 15,000 U.S. military service members (those on both active duty and part of the reserves) will soon have their livelihoods transformed by Trump's order.