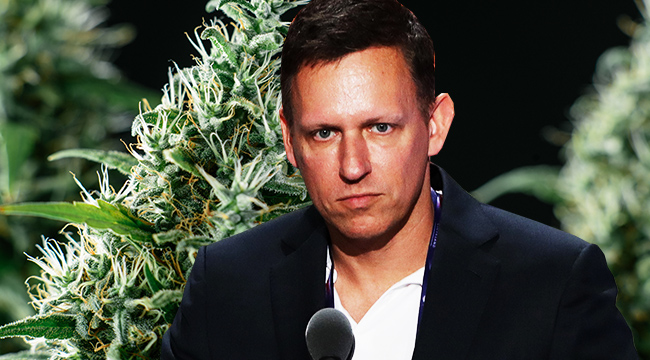 Attorney General Jeff Sessions began 2018 by renewing his battle cry against marijuana as a "gateway drug" that is, in his mind, far more dangerous than guns. In doing so, he rolled back an Obama-era policy that allowed legal weed to flourish while vowing to defer to federal prosecutors to enforce federal weed laws at the state level. Seemingly in response and defiance, venture capitalist and mover-and-shaker Peter Thiel — formerly a very outspoken Trump supporter who's been (reportedly) steadily revealing his distaste for the reality of the administration — may be throwing down the financial gauntlet.
A Thiel-backed private equity firm has signaled that the marijuana industry is going nowhere by raising a whopping $100 million to invest in marijuana companies — in addition to an already existing $100 million. The equity firm, Privateer Holdings, has now broken the record for private investment in the legal cannabis industry, all while being "mindful of the risks posed by the Trump administration," according to Bloomberg. Privateer Founder and CEO Brendan Kennedy told Reuters that the legal weed trend won't end soon:
"I think there's massive pent-up demand between institutional investors and retail investors. Every major financial institution that let's say manages more than $5 billion has a team tasked with understanding this industry… They haven't started to deploy capital in this industry, but they will."
This money will likely go straight into companies within Privateer's existing portfolio, including edibles company Goodship and the late Bob Marley's official cannibis brand, Marley Natural. Sessions and President Trump won't delight in any of this news, especially after the Justice Department strategically announced the new weed policy days after smoking marijuana became legal in California. And following Sessions' move, multiple states have since legalized marijuana (with Vermont even doing so via its legislature), so get your popcorn and your munchies ready because the fight shall continue.