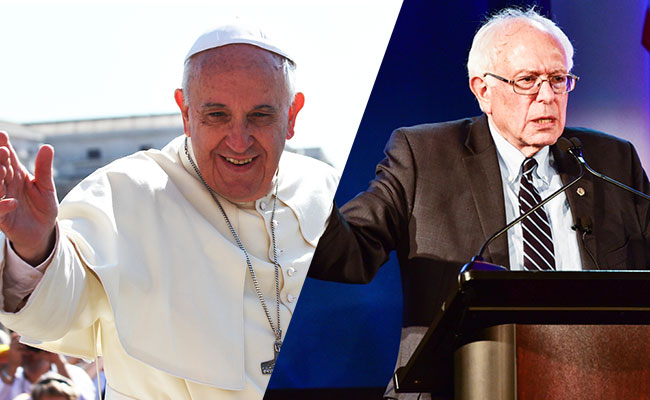 Ahead of what is shaping up to be a hotly-contested New York Democratic Primary on April 19th, Democratic hopeful Bernie Sanders made his way to visit at the Vatican this weekend in a move that has left pundits grasping at straws to label said visit. Vermont Senator Bernie Sanders has described himself as not exactly the most religious man in the world, but does associate as Jewish when pressed on the issue, which makes the visit to the home of the Roman Catholic Church that much more interesting. There were even those questioning if Sanders had invited himself to the Vatican as a sort of publicity stunt heading into New York, but he was actually asked to speak by the Vatican.
After the visit there have been questions if Pope Francis was somehow involving himself in world politics through the invitation and meeting with Senator Sanders, which according to statements reported by Time, is simply not true.
"When I came down, I greeted them, shook their hands and nothing more. This is good manners. It's called good manners and not getting mixed up in politics. If anyone thinks that greeting someone means getting involved in politics, they should see a psychiatrist," the pope said.
For those excited by the prospect of what many have called the most "liberal" and progressive pope in a long time meeting with America's most left-leaning Presidential candidate might be disappointed by this, but it was still an interesting honor to invite Sanders to speak at the Vatican considering his religion and stance on world issues. Sanders faces an uphill battle in the race for the Democratic nomination against Hillary Clinton, with Clinton still in the lead with delegates and superdelegates heading into the New York primary, even if Sanders has momentum from a few big wins throughout the western part of the United States.
(via Time)