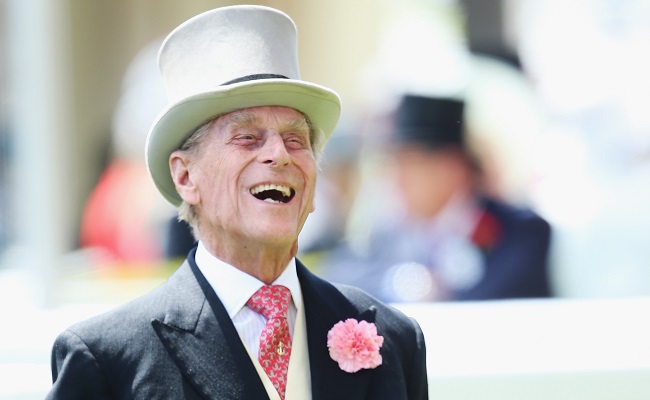 Very late last night (early morning in UK Greenwich Mean Time), England's Queen Elizabeth II called an emergency meeting with her most senior aides, and Royal correspondent for the BBC Peter Hunt sent out this ominous sounding tweet:
This, of course, led some (myself included) to fear it very much had to do with the health of either the Queen or Prince Philip. The New York Times described it as "a frenzy of speculation" but we prefer to call it a kerfuffle, if you please. The Twitter hashtag #BuckinghamPalace was trending higher than #StarWarsDay and #MayTheFourthBeWithYou. The Sun even published — then retracted — an obituary for Prince Philip.
But buck up, it's not that bad after all, as Buckingham Palace has just announced what's really going on. Prince Philip, the seemingly-immortal husband of the seemingly-immortal Queen Elizabeth II, is retiring from royal duties at age 95. (Goodnight, sweet Prince?)
Honestly, I thought the 95-year-old Prince had already retired twenty years ago. Perhaps I'm not be the best one to cover news of the Royals, being that much of what I know of British culture comes from Blur albums and episodes of Red Dwarf and The League Of Gentlemen (this is a local reference, for LOCAL people). But I'm the only one awake here when it's 10 am at Buckingham Palace, so carry on we must.
Here's the official announcement:
His Royal Highness The Duke of Edinburgh has decided that he will no longer carry out public engagements form the Autumn of this year. In taking this decision, The Duke has full support of The Queen. Prince Philip will attend previously scheduled engagements between now and August, both individually and accompanying The Queen. Thereafter, The Duke will not be accepting new invitations for visits and engagements, although he may still choose to attend certain public events from time to time.
The 95-year-old Royal frequently makes public appearances and is involved in more than 780 organizations. Which is making us feel particularly lazy by comparison this morning.
(Via Deadline and the New York Times)