Get to know those two mugs you see above. They could one day be appearing on Canadian quarters that completely ruin your trip to the Laundromat. Oh, and also because Prince William and Kate Middleton have a hot streak going of appearing in scenic pictures.
The Duke and Duchess of Cambridge have wrapped up a tour of India and Bhutan after making a variety of appearances, preparing for the Hunger Games and handling an airplane landing that would likely make a lot of people fudge their commoner pants. Their visit also included the re-creation of a striking image from William's mum's visit in 1992.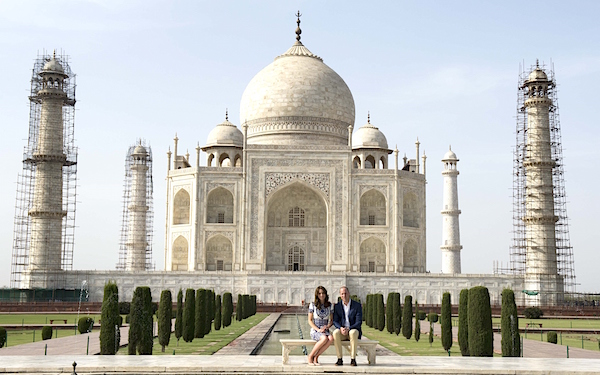 William and Kate (or Kalliam as no one calls them) posed for a picture on a bench in Agra while visiting the Taj Mahal. If the picture seems familiar, it's not only because you're looking at an iconic location, but it also was the site of a Princess Diana picture from nearly a quarter-century back that radiated with isolation and loneliness with a divorce looming on the horizon. Here's a side by side shot (h/t Vanity Fair) for comparison.
It's quite a contrast in tone and the Cambridge's communications secretary Jason Knauf commented on the significance of William visiting the location.
"The Duke of Cambridge is of course aware of the huge esteem his mother, the late Princess of Wales, is held in in India and he appreciates the status of the images that exist of the Princess at the Taj.

He feels incredibly lucky to visit a place where his mother's memory is kept alive by so many who travel there."
This seems like a good time to rifle through your family photos and see if there's some sort of candidate for a family posing bench. Maybe the one outside your local Arby's? That's like being royalty, right?
(via BBC & Vanity Fair)