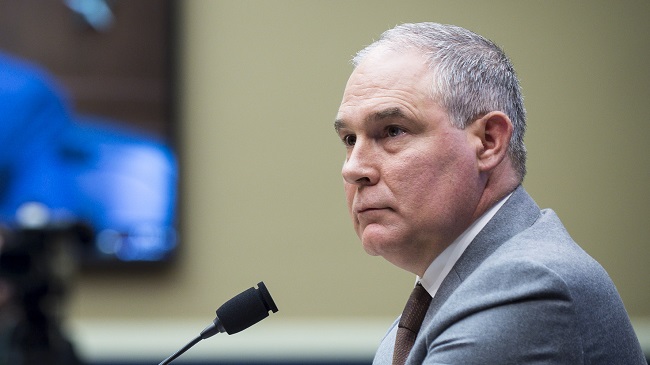 Since his Senate confirmation, Scott Pruitt has said and done some fairly alarming things as the leader of the Environmental Protection Agency. Then again, from claiming human-produced CO2 isn't a significant contributor to climate change to continuously rolling back Obama-era policies, the former Oklahoma attorney general's words and actions haven't been all that surprising. What is surprising, however, is what he said about his current boss on a 2016 talk radio show interview dug up by the New York Times.
During the interview, Pruitt — who previously sued President Barack Obama's administration on his state's behalf — claimed that then-Republican presidential candidate Donald Trump "would be more abusive to the Constutition" than his predecessor:
In February 2016, speaking on the Pat Campbell Show, a news show broadcast out of Tulsa, Mr. Pruitt was asked if he was a Trump supporter. Mr. Pruitt responded, "No. No, He's the very… and you say that Pat but do you know what's interesting? I believe that Donald Trump in the White House would be more abusive to the Constitution than Barack Obama — and that's saying a lot."

"I really believe he would use a blunt instrument. This president at least tries to nuance his unlawfulness," Mr. Pruitt said. "Donald Trump has said many, many times they want… I'll do this I'll do that. And those things that he's mentioned cannot be done. I think executive orders with Donald Trump would be a very blunt instrument with respect to the Constitution."
Neither Pruitt nor the White House has responded to the Times' story. What's more, it remains unknown as to how Pruitt's detrimental comments were missed or ignored during his initial vetting process. After all, as fired FBI Director James Comey's testimony and other reports have indicated repeatedly, Trump demands "loyalty" from his inner circle.
(Via New York Times)