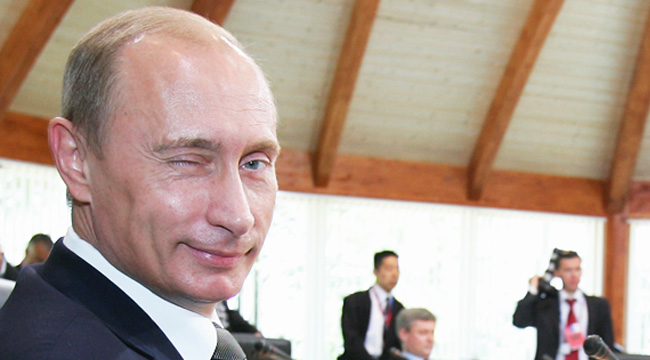 For the past week or so, prominent Republicans have genuinely freaked out over the secret CIA report that revealed how Russia interfered with the election to put Donald Trump in office. This report arrived months after Trump publicly asked for Hillary Clinton to be hacked, but it still managed to shock. After all, it's serious business when a foreign power interferes in an election no matter who benefited from the influence.
Now, NBC News has a significant update to this story and one that cannot be taken lightly. The outlet reports that U.S. intelligence officials have declared that the hacking wasn't simply the work of middlemen. Instead, they believe Vladimir Putin was "personally involved" in directing hacking efforts, and these officials carry a "high level of confidence" on the subject:
Two senior officials with direct access to the information say new intelligence shows that Putin personally directed how hacked material from Democrats was leaked and otherwise used. The intelligence came from diplomatic sources and spies working for U.S. allies, the officials said.

Putin's objectives were multifaceted, a high-level intelligence source told NBC News. What began as a "vendetta" against Hillary Clinton morphed into an effort to show corruption in American politics and to "split off key American allies by creating the image that [other countries] couldn't depend on the U.S. to be a credible global leader anymore," the official said.
Michael McFaul, the former U.S. ambassador to Russia, points out on Twitter how — when it comes to this high-stakes subject — officials wouldn't have spoken with NBC News unless their information was "solid."
This new information dovetails with a report that Putin's popularity among Republican voters is suddenly hitting the roof (despite the hacking business and Russia's assistance in sabotaging humanitarian efforts in Syria). Putin's appeal has fallen among Democrats, which is no shocker.
Meanwhile, the New York Times reports that President Obama chose to hold off for months on blaming Russia for the ongoing hacking of the DNC because he didn't want to prompt accusations of election meddling. There may be some regrets on that subject right about now.
(Via NBC News, Huffington Post & New York Times)