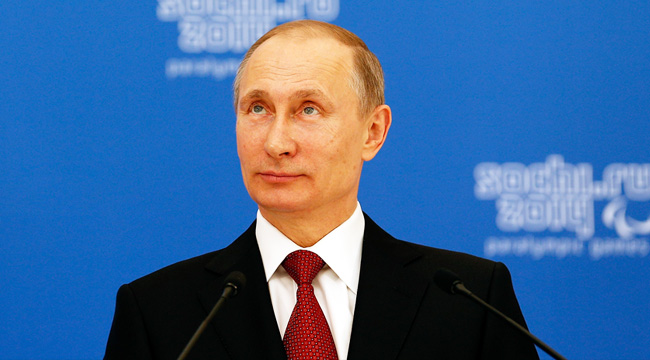 Ever since the DOJ and congressional Russia probes launched, the question has been whether or not the Trump administration knowingly and intentionally colluded with Russia. But what if the experts investigating should be asking a different question entirely — like what the Kremlin would have to gain if it simply looked like Trump colluded? That's exactly what one expert on Russia (and specifically Russian spies) thinks the question should be, namely one Daniel Hoffman, a former CIA station chief.
Take, for example, one of the most damning events in the whole timeline, the meeting between Russian lawyer Natalia Veselnitskaya, Donald Trump Jr., Jared Kushner, and Paul Manafort. One interpretation is that the meeting was revealed because of Don Jr.'s bumbling, a tempting way to view the situation given the way he released his own emails on Twitter. But what if that meeting weren't the story of the Trump camp's ineptitude, but of Putin's cunning?
"To me," Hoffman says, "it pointed to a discoverable influence operation rather than some effort to establish a clandestine channel for collusion."
What he means is that the whole meeting might have been arranged so that it could be discovered and cast the kind of doubt on the Trump administration that has been driving the president to distraction. "Overall I haven't seen any evidence of anyone actually colluding with the Russians," Hoffman explains. But that doesn't mean that Putin's fingerprints aren't all over dozens of suspicious meetings, documents, and leaks.
Like that dossier put together by British intelligence officer Christopher Steele, the one that started the whole golden showers narrative Steve Colbert investigated. Hoffman thinks the dossier might be contaminated with misleading information that makes it hard or impossible to tell which of the contacts between the Trump administration are real and which are clever narratives cooked up by Russian spies. But those same spies can learn a lot from how we investigate and interpret pieces of information of which only the Russian intelligence operatives who planted it know the veracity. It's a long play to find out, Hoffman says, "What makes us breathe."
Not everyone agrees with Hoffman. of course. But the theory he raises might in turn help us think like Russians, which could be a very useful perspective. It holds space for a number of possible, simultaneous truths: That Trump and his associates aren't lying when they say they didn't collude; that Russia does have a worrisome interest in the President and in manipulating U.S. politics; and that something sinister is afoot. If one thing is for certain, it's that Hoffman's line of inquiry puts the focus back on what makes Trump and his administration breathe, which might be as big a mystery to Americans outside Trump's base as it is to foreigners watching this particular political moment.
(Via NPR)