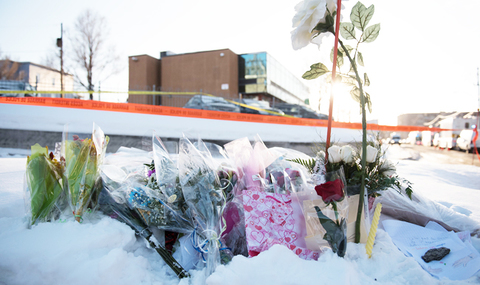 A day after a shooting at a Quebec mosque killed six people and injured 19 more, more details about the shooting suspect and the attack are being released by Canadian law enforcement. The suspect, Alexandre Bissonnette, has been officially charged with six counts of first-degree murder as well as five counts of attempted murder. The victims ranged in age from 39 to 60 years old, and Bissonnette was eventually arrested more than 10 miles away from the scene of the shooting after he called the police on himself.
Originally, the suspect was identified as a Moroccan man, a falsity that some news organizations — and White House Press Secretary Sean Spicer — used to place blame on some of the same countries and religions identified in President Trump's recently enacted travel ban. Instead, Bissonnette is a xenophobic, misogynist troll who has been known to spew alt-right propaganda and anti-immigrant hatred in online groups. In addition, according to The Intercept, he was known around the city as being a right wing troll who was a fan of noted far-right icons like Marine Le Pen and others as reflected by the "likes" on his now-deleted Facebook page. One of Bissonnette's classmates, Jean-Michel Allard-Prus, told Journal de Quebec that "he has right-wing political ideas, pro-Israel, anti-immigration. I had many debates with him about Trump. He was obviously pro-Trump."
Long after Bissonnette was confirmed to be the lone suspect in the attack, multiple Trump-supporting Twitter accounts as well as some mainstream media accounts like Fox News, kept their tweets about his Moroccan descent up.
Not only is this false, but the confusing early report is still being used to attempt to turn public opinion against minorities and the Muslim religion. Bissonnette is 27 years old and is currently a political science student in Quebec.
(via Vice/The Intercept)