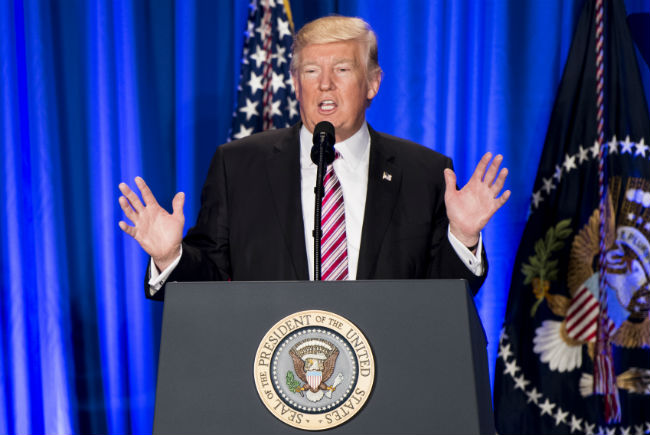 On Friday, several refugees were detained at airports across the U.S. after President Trump signed an executive order to close the country's borders to refugees. Many of the people that were detained were in flight when he signed the executive order, with some filing complaints to gain entry.
Trump's new order will reconfigure the country's vetting process for refugees that enter the country, as the president put it, "to keep radical Islamic terrorists out of the United States of America." The New York Times reported one component of the new vetting process includes a religious test:
The executive order, which Mr. Trump said was part of an extreme vetting plan to keep out "radical Islamic terrorists," also established a religious test for refugees from Muslim nations: He ordered that Christians and others from minority religions be granted priority over Muslims.
Other details of the so-called "extreme vetting" process were not disclosed, but it does put an immigration ban on seven countries that have a large Muslim population. Those countries include Libya, Sudan, Syria, Iraq, Iran, Yemen, and Somalia. And it will suspend the entry of refugees to the U.S. for 120 days.
And within hours of Trump putting pen to paper on this order, it is already being tested. Refugees that were traveling as the president signed the order were stopped and detained at several airports, as reported by The New York Times. The exact number of refugees who were detained was not disclosed (The Hill reported two Iraqi refugees were detained in New York), but several complaints were filed through prominent, including the American Civil Liberties Union and the National Immigration Law Center, to help gain them access to the country. Mark Doss, a supervising attorney at the International Refugee Assistance Project said he has never seen anything like this:
"We've never had an issue once one of our clients was at a port of entry in the United States. To see people being detained indefinitely in the country that's supposed to welcome them is a total shock. These are people with valid visas and legitimate refugee claims who have already been determined by the State Department and the Department of Homeland Security to be admissible and to be allowed to enter the U.S. and now are being unlawfully detained."
This is the first real test for Trump concerning his immigration policies and he has yet to comment on the situation. His policy is still in its early stages, so it is not known what he will do or how he will respond.
(Via The New York Times & The Hill)