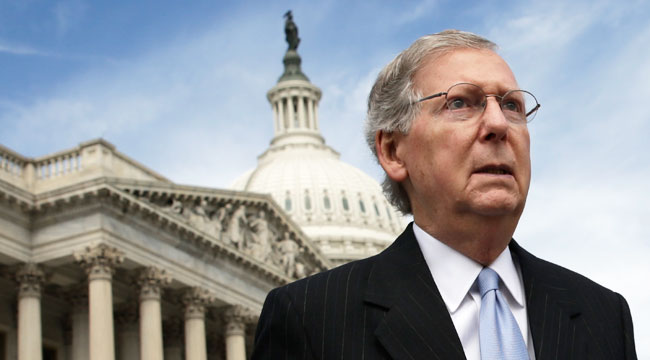 After another fresh round of trying to do away with Obamacare, Senate Republicans have cancelled the vote on Graham-Cassidy, the latest last-ditch effort to repeal Obama's signature healthcare policy. They did so ahead of an end-of-the-month deadline and following a massive crusade by none other than Jimmy Kimmell.
According to sources (via The Daily Beast), Sen. Mitch McConnell not only lost the support of Sen. John McCain (like last time), but the GOP was losing votes even as plenty of other moderate Republicans didn't state publicly that they would vote for Graham-Cassidy. According to CNN, McConnell decided to cancel the vote after meeting with the Senate Republicans and taking stock of where his colleagues were leaning. While some Senators wanted to hold the vote, even knowing it would fail, McConnell reportedly didn't want to open up the GOP to "political fallout and attack ads."
However, even though they're not voting on it now doesn't mean the GOP efforts to repeal Obamacare are entirely over, according to Sen. Pat Roberts:
"The decision was a joint one between Lindsey and Bill and the other two sponsors and also the leader that if the votes are not there, not to have the vote, but not to give up. We're going to try to do this in some form in this session of Congress."
President Trump has maintained that repeal-and-replace will happen and added, "But we are disappointed in certain so-called Republicans," an apparent reference to John McCain, Rand Paul, and Susan Collins.
The next steps for repealing Obamacare are unknown, but some Republican Senators are throwing around the idea of tying repeal-and-replace (unpopular) with new, soon-to-be-unveiled tax plan. Buckle up. Again.
(Via The Daily Beast & CNN)