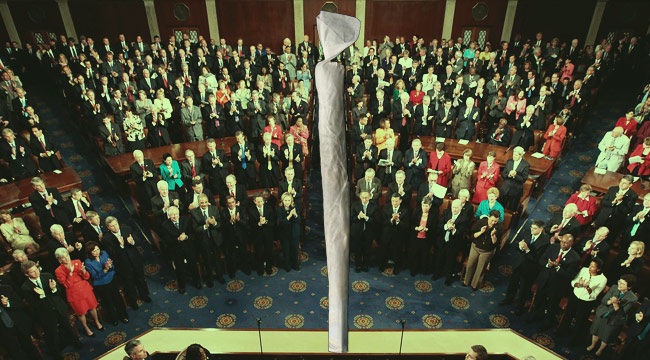 Despite Attorney General Jeff Sessions's best efforts, marijuana legalization is on the rise in the United States. Recent studies have shown legal weed is replacing most over-the-counter medicines, while dispensaries in states like Nevada are running out of product so fast, officials are actually declaring states of emergencies in order to cope. Yet perhaps the biggest indicator of legal marijuana's effects on American society comes in the form of a new Gallup poll concerning the subject, which indicates — for the first time ever — that the majority of Republicans think pot should be legalized.
Currently, Gallup's new findings indicate 64 percent of Americans think marijuana should be legalized at the federal level. However, the new poll's most interesting revelations concern its partisan findings, which determined the GOP has finally caught up with Democrats and Independents:
Democrats and independents have historically been much more likely than Republicans to say marijuana should be legalized. In 2009, Democrats were the first partisan group to see majority support for legalization, followed by independents in 2010.

This year for the first time, a majority of Republicans express support for legalizing marijuana; the current 51% is up nine percentage points from last year.
"As efforts to legalize marijuana at the state level continue to yield successes," the report concludes, "public opinion, too, has shifted toward greater support." As a result, the general opinion of legalized marijuana has increased positively among the major partisan groups identified by the pollsters. And while Sessions's Justice Department has appeared more hostile than its predecessors regarding the issue, it seems the tide is changing in legalization's favor. The attorney general himself even went so far as to suggest "more competition" among legal growers would be "healthy."
Of course, we're all ignoring the more interesting point here — that, between 2016 and 2017, Republicans polled by Gallup on legalizing marijuana jumped "up nine percentage points." That is one hell of a markup. It's almost as if something very distressing happened in the past year.
(Via Gallup)