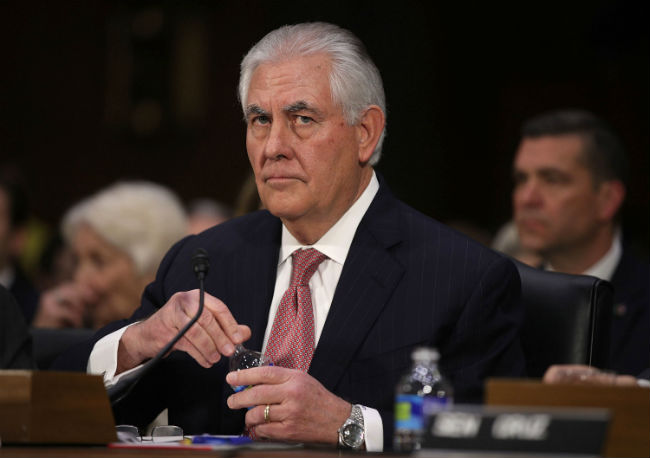 Secretary of State Rex Tillerson has already expressed wishes for a media-free run as Secretary of State, and this reserved attitude may extended to those who work in his presence. The Washington Post reports that U.S. diplomats have been instructed not to make eye contact with Tillerson if at all possible. (All of a sudden, the "Wayne Tracker" email alias may make more sense.) Certainly, the Washington D.C. spotlight can be exceptionally bright, but this may be too much:
"Most of his interactions are with an insular circle of political aides who are new to the State Department. Many career diplomats say they still have not met him, and some have been instructed not to speak to him directly — or even make eye contact."
Further, Tillerson likes to take a little "me-time" when going over memos, avoiding as many people as possible:
Secretary of State Rex Tillerson takes a private elevator to his palatial office on the seventh floor of the State Department building, where sightings of him are rare on the floors below.

On many days, he blocks out several hours on his schedule as "reading time," when he is cloistered in his office poring over the memos he prefers ahead of in-person meetings.
He sounds like a nice guy. To make this news sound even weirder, Tillerson recently admitted that he didn't want this job in the first place, and he only took the gig for his wife. An aide has told The Post that Tillerson now wants to conduct business with little "fanfare," but this may make bureaucrats and diplomats feel a little uneasy.
(Via The Washington Post & Chicago Tribune)