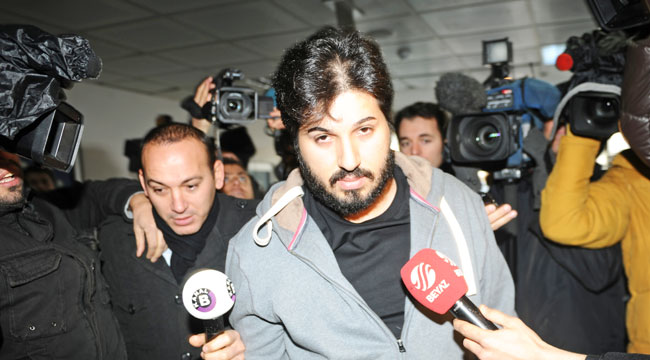 Reza Zarrab is like a character out of a spy novel. He's accused of money laundering and gold smuggling, he's been appearing in courts since 2013, and he may have finally wound up in the crosshairs of the U.S. government. But while the case is fascinating on its own, Zarrab's arrest and apparent flip on one of his co-conspirators may have far-reaching impacts well beyond Turkey and might drag in several figures (including Michael Flynn) in the Trump/Russia investigation. Here are the facts as we know them.
After the election, Rudy Giuliani suddenly had an interest in Zarrab's case: In February 2017, Giuliani and former Bush appointee Michael Mukasey went to Erdogan in a secret meeting with an unusual deal. Essentially, they were offering a plea bargain, despite having no authority to do so. Giuliani remains involved in the case; a month later, Giuliani and Mukasey were hired as Zarrab's lawyers, despite concerns about conflicts of interest. Curiously, Giuliani has confirmed on the record that he has spoken to the Trump administration about the case, and Bharara would later discuss some unusual phone calls he received from Trump directly, although Zarrab's case was not discussed. Bharara was fired from his role as U.S. Attorney last summer.
And that, in turn, brings us to Michael Flynn: The former National Security Advisor, who spent roughly a month on the job before being dismissed for failing to disclose lobbying work he did, also had a paperwork problem that has been revealed to be part of a bizarre plot to kidnap Gülen from his home in Pennsylvania and deliver him to Erdogan's government. If that weren't strange enough, it appears that money Flynn was supposedly paid for his lobbying work by a Turkish businessman was actually from Dmitri Zaikin, a Russian oil executive. Zaikin has several financial connections to the Trump Organization, as Pro Publica reports:


Zaikin also has business connections to Trump. Working at a real estate agency in Toronto in the 2000s, Zaikin brokered sales in one of the city's new high-rises: the Trump International Hotel & Tower. Perhaps coincidentally, Zaikin was also close with a Russian woman who was the exclusive agent for one of Trump's Florida developments and who was branded "Trump's Russian hand" by a glossy Russian magazine.

What makes this especially unusual is that Zaikin, while an international businessman, has no meaningful business ties or political connections to Turkey.

And, bringing it back to the corruption scandal, it appears Zarrab is ready to talk: Word has broken that Zarrab is cooperating with U.S. authorities as they prosecute Mehmet Hakan Atilla, a deputy CEO of the Turkish state bank implicated in Zarrab's smuggling scheme and who arrived in the U.S. in March 2017 and was immediately arrested by the FBI. Atilla's arrest was also characterized by Erdogan as somehow a plot by Gülen.
What, then, can an observer make of this? Good question. These are only the visible facts; at the very least Zarrab is at the center of an enormous money laundering investigation that will likely publicly embarrass Turkish officials and may lay bare some aspects of international finance many world players are not eager to see daylight on. And Trump is not tied to the case directly, but his satellites are, and he's taken actions that benefit the case, even if he did so for other reasons. How his administration reacts will be closely watched, thanks to Flynn's ties to Turkey and the tempting lines one can draw between the Iranian and Russian government.
But there is one final tie between Trump and Zarrab, one that's likely meaningless but will certainly raise a few eyebrows. Where did Zarrab perform all this smuggling and financial chicanery? In a plush office in Trump Towers Istanbul, that's where.