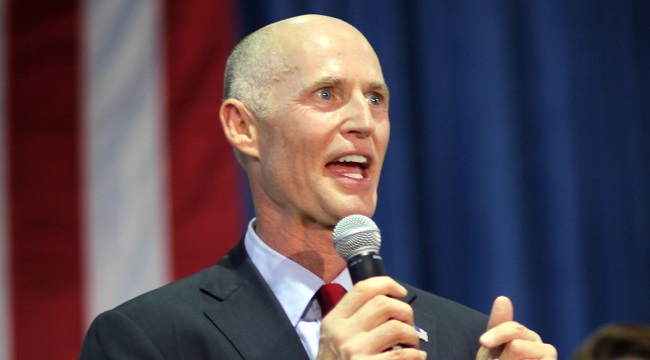 Following a viral video of an argument with an angry constituent at a Starbucks and the subsequent attack ad his supporters paid for to counter the woman, you'd think the Florida Republican Gov. Rick Scott would want to avoid the spotlight. Yes, he's at the top of many pundits' lists of potential vice-presidential picks for the Republican ticket, and yes, he endorsed Donald Trump in March. But that doesn't mean the 63-year-old politician wants that much press. Right? Right, which is why Scott and his speechwriters decided to use the erudite phrase "monkey business" in remarks delivered to Republican National Committee leaders in Hollywood, Florida, on Thursday.
"We've got to be transparent," told members of the RNC. According to Politico, that's when Scott stressed that the GOP "can't take a chance that we're accused of any monkey-business. Tricks. Stunts. Anything."
Of course, Scott's reference to "monkey-business" was the second most noteworthy thing about his speech. The first was the fact that, despite his announced support for Trump's candidacy last month, the governor didn't say anything positive about the New York real estate mogul. Or anything negative, for that matter. In fact, most of what Scott said about the surviving crop of GOP presidential candidates was decidedly neutral. Sarcastic at times, sure, but otherwise non-combative.
"We know so many important things about our candidates," Scott said with a touch of sarcasm during his speech. "We know how tall their boots are. We know the size of their hands. We know who's got the best hair — mine's easier. We know who's got the most-beautiful wife… We know somebody's going to build a wall… And we know we're going to start winning soooo much that we're going to get tired of winning — that would be nice."
As Scott's "monkey-business" comment and its related references to Trump and the other candidates began to trend on Twitter, so too did the responses.
(Via Politico)