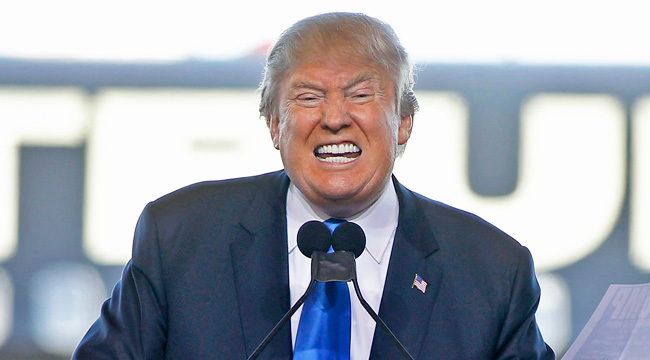 The Republican party appears to be in a panic following Donald Trump's latest scandal, which involves the The Washington Post releasing footage of Trump's extremely lewd comments in 2005 on a hot mic. There were many degrading aspects of the revealed conversation, but the "grab them by the p*ssy" made the most waves. And after over a year of incendiary behavior from Trump, the RNC may have had enough.
Countless prominent party members have spoken out against Trump. John McCain pulled his endorsement while John Kasich delivered an I-warned-you condemnation. Speaker Paul Ryan disinvited Trump from a joint event while his running mate, Mike Pence, finally drew the line at what he can't defend. There are a host of other Republicans who withdrew their support too.
Times are not good for the GOP. The Wall Street Journal now reports that RNC Chair Reince Priebus gave a Saturday instruction to party officials, which hits Trump (sort of) where it counts — the GOP purse strings:
Republican National Committee Chairman Reince Priebus on Saturday told party officials to redirect funds away from nominee Donald Trump to down-ballot candidates, according to an official informed of the decision. In practical terms, the party will be working to mobilize voters who support GOP House and Senate candidates regardless of their position on the presidential race.
So, funds could be diverted to Congressional candidates rather than to a presidential nominee who's embarrassing the party. Will this matter? Trump funded his own candidacy during the primary season. These days, he's been taking on increased donations from supporters but also receiving RNC staff support geared toward swing states and money devoted to mailings, etc. This pulling of funds could be mostly symbolic. All I'm saying is that if Trump goes down, it won't be because the RNC pulled funding.
Meanwhile, Trump has refused to pull out of the race while insisting that he's not a quitter, and he's got so much support that people wouldn't believe it. Well, the next presidential debate is on Sunday, and there are sure to be (more) fireworks.
(Via Wall Street Journal)