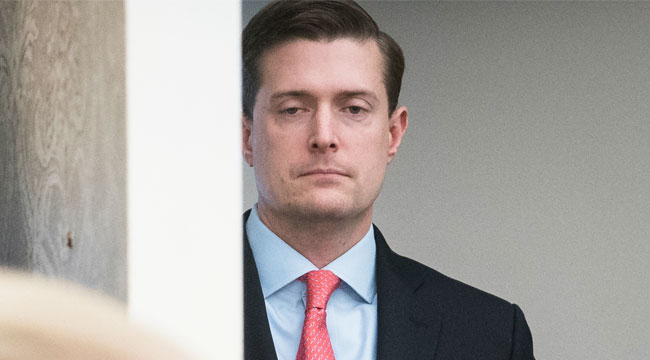 The saga of disgraced former White House aide Rob Porter has continued into its second week, as much as the White House would prefer it not to. In yet another revelation that will make a lot of people in the Trump administration squirm, Porter reportedly told one of his ex-wives back in September that his security clearance was held up from being granted over concerns that he was "violent." This, of course, directly relates to the domestic violence allegations against him by both women.
According to Porter's first ex-wife, Jennie Willoughby, Porter called her because the clearance was "delayed." Per CNN:
"When I asked him how he knew that, he told me that people who were involved in the background check let him know it was being delayed — and that one of the concerns was that he was 'violent.' So, he was asking me if I had used that word with the FBI and if Colbie [Holderness, Porter's other ex-wife] had used that word."
Willoughby said that Porter contacted her a second time after the initial phone call to express similar frustrations.
Willoughy's revelation is another blow to the White House's changing story about what was known about Porter's domestic violence accusations and when. Both Willoughby and Holderness had maintained that they were upfront with the FBI during initial interviews regarding Porter's security clearance, and they supplied additional materials when asked.
(Via CNN)