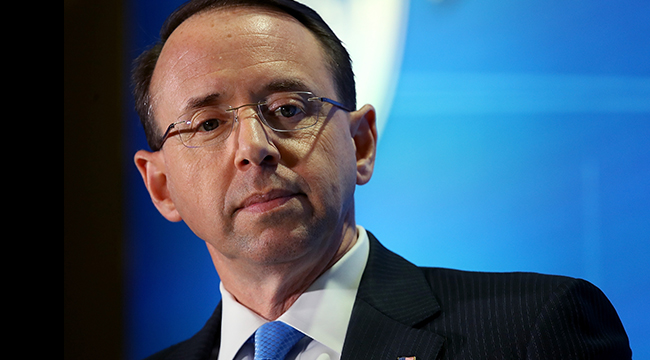 The Monday raid on Michael Cohen, Donald Trump's personal attorney, over allegations he illegally paid adult film star Stormy Daniels $130,000 to cover up her affair with Trump, has surprised the country, left pundits chattering, and Trump fuming over attorney-client privilege. And as journalists have dug in, they've found some new factors in the raid on both the side of the Justice Department and the cases they're investigating. It turns out that Rod Rosenstein personally authorized the raid.
Rosenstein is second-in-command at the Justice Department and also in command of Robert Mueller's investigation into Russian interference with U.S. elections. As such, that's made Rosenstein, who rose through the Justice Department ranks under George W. Bush, a repeated target of Trump's. This raid, however, was carried out by the U.S. Attorney's office of the Southern District of New York. Rosenstein was involved heavily in the details, however, letting Geoffrey Berman, the U.S. Attorney for that district, recuse himself and approving Mueller's referral of the matter to that office in the first place. In the end, Rosenstein personally signed off on the FBI raid, as well.
But that's not the only fascinating detail. Cohen is in trouble for the $130,000 as that cost falls under campaign finance law and would be an illegal campaign contribution. But the New York Times has some new details that indicate that it's not just Cohen who should be worried:
The F.B.I. agents who raided the office of President Trump's personal lawyer on Monday were looking for records about payments to two women who claim they had affairs with Mr. Trump, and information related to the publisher of The National Enquirer's role in silencing one of the women, several people briefed on the investigation said.

The search warrant carried out by the public corruption unit of the Manhattan federal attorney's office seeks information about Karen McDougal, an ex-Playboy model who claims she carried on a nearly yearlong affair with Mr. Trump shortly after the birth of his son in 2006. Ms. McDougal was paid $150,000 by American Media Inc., the Enquirer's parent company, whose chief executive is a friend of Mr. Trump's.
McDougal's story, which first broke in February via The New Yorker, has been eclipsed somewhat by Stormy Daniels' allegations, but they largely mirror Daniels' experience with Trump and his apparatus. Farrow's piece revealed that McDougal had been the target of a "Catch And Kill," tabloid slang for buying an exclusive on a story and then refusing it to run it. Newspapers are free to do this if they so choose, of course. But if American Media Inc. worked with Cohen or anyone else in Trump's orbit to buy and bury the story, they'd face scrutiny from the Justice Department for their role. In other words, the raid on Cohen may simply be the first of many.
(via The New York Times)