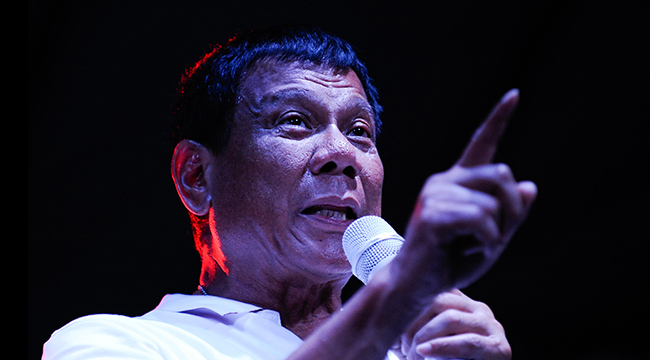 John Oliver — the smartest and funniest guy in the room — introduced us on Sunday to Rodrigo Duterte, or the "Trump of the East." That's right, while we worry about the consequences of Donald Trump as a presidential nominee, the Philippines last night elected a man who says and does even more terrifying things, and gets away with it.
Part strongman, part Robin Hood-like folk hero, and very much so a creepy misogynist with little regard for human life — here's what you need to know about Rodrigo Duterte.
He Wants To Solve Crime By Killing All The Criminals
The 71-year-old Duterte has served as the mayor of Davao City since 1988, totaling seven terms and 22 years. He's legendary for turning Davao City from the "murder capital" of the Philippines, as NPR reports, into one of the country's safest cities. Yet his methods for doing so are extremely controversial.
Human Rights Watch is investigating Duterte's "Davao Death Squad," which it says is responsible for hundreds of extra-judicial killings in the last decade. These death squads have apparently become a model for crime-fighting mimicked by other cities in the Philippines. Duterte promises to wipe out crime in three to six months, presumably in this manner, if he were to become president, as Vice reports.
He's Dead Serious About His Rape Jokes
Amid all the Duterte explainers that have popped up in recent days, including in Oliver's segment on the politician, there's one nasty comment of his that's repeated throughout. He "joked" that while it was sad that Australian missionary Jacqueline Hamill was gang raped and then killed in 1989 during a hostage crisis at Davao City Prison, she was very beautiful, and "the mayor should've been first in line."
Yes, your eyes do not deceive you. He actually said that he wished he could've raped Hamill. When confronted later over the joke, he clarified that he wasn't actually joking. You know, he just tells it like it is. When his own daughter criticized these comments, saying that she too has been raped, Duterte called her a "drama queen." And this doesn't even cover a mass wedding he officiated where he offered himself up to the brides as a gift, but not to the grooms, because he isn't "a queer."
He's Super Popular, Because People Just Want Change In The Philippines Already 
Despite how hateful and scary Duterte seems, one can kinda-sorta see his appeal. According to Time, Duterte is very good at keeping himself in the news, making sure to drop an inappropriate soundbite into every appearance in order to get headlines.
It doesn't matter that Duterte is a one-trick pony, not really having a grasp on his country's financial issues. As Time puts it:
Yet Duterte has twisted this unfamiliarity with big business to his advantage, playing up the image of the plain-spoken common man who isn't beholden to the entrenched dynasties that historically, and still, hold significant sway over the Philippines.
Then there are these stories about him that make him out to be some kind of folk legend. From Vice:
Everyone in the Philippines seems to have a Rodrigo Duterte story. There's the one about how he was elected mayor of Davao for the first of seven times in 1988, and then cleaned up its streets almost overnight. He was the guy who patrolled Davao, a city in southern Philippines from the back of a Harley-Davidson, and then from inside a taxi after drivers started getting robbed. He was also the guy who left his own home to help his neighbours first when the city flooded in 1994.
Several news clips start with Duterte revving up a motorcycle. Dude knows his image management.
There were five candidates for President of the Philippines. Duterte was first in the polls, 16 points ahead of his nearest opponent.