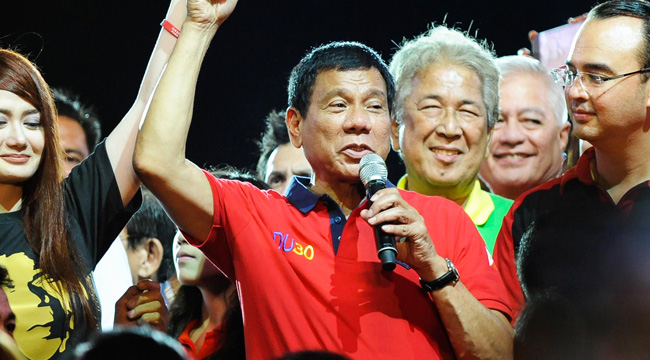 Many eyebrows were raised on Saturday when The New York Times reported that President Trump had extended an invitation to the White House to Philippines President Rodrigo Duterte during a conversation the pair had last week. Duterte, of course, isn't your average Trump counterpart. In an attempt to extinguish the drug epidemic that has crippled his nation, the Filipino president has ordered thousands of traffickers and addicts killed in the streets, even personally admitting to taking the lives of multiple men during his time as a mayor. Oh, and he once referred to President Barack Obama as "the son of a wh*re." Despite all those things, Trump thought Duterte was worthy of a tour of the Oval Office.
Duterte definitely isn't the sort of world leader most American's feel normally comfortable stepping foot in the "people's house," but the first 100 days of Donald Trump's presidency have been anything but normal. Trump made the initial phone call to Duterte to ease tensions between the two countries in an overall strategic attempt to disarm North Korea. As they say, you need to break a few eggs to make an omelet.
Turns out, no worries, though. If you're not completely comfortable with Duterte taking a tour of the White House, you may not have to stomach it, because according to him, he might just be too busy to make it. According to The New York Times, Duterte said on Monday he's a bit "tied up" at the moment with his busy schedule (which includes a visit to Russia) and "cannot make any definite promise," to attend the White House anytime soon.
It's been rumored that of all the things that anger Donald Trump the most, turning down an invitation to golf digs at him deepest. If the President feels the same about invitations to his house, Duterte may have just messed around and caught the bad side of the Donald.
(Via The New York Times and The Guardian)