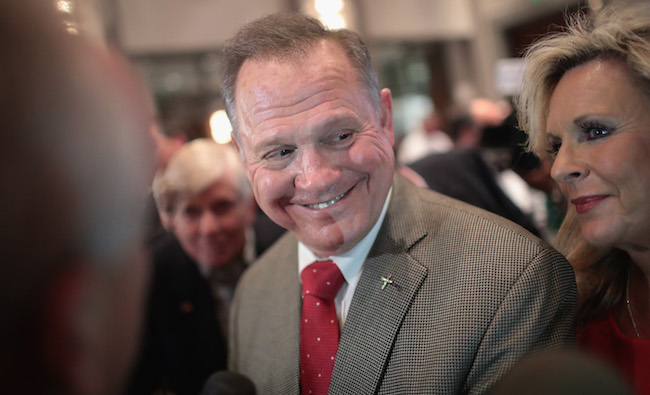 Embattled GOP Senate candidate Roy Moore is facing yet another allegation of predatory behavior. The latest accusation comes as Moore is losing public support from some of his more steadfast supporters and the National Republican Senatorial Committee's most recent poll puts the Republican in a double digit deficit versus Democratic opponent Doug Jones.
Speaking with AL.com, Tina Johnson recalled being groped by Moore in 1991 while in Moore's law office with her mother.
"He kept commenting on my looks, telling me how pretty I was, how nice I looked," said Johnson. "He was saying that my eyes were beautiful."
She says Moore's behavior made her uncomfortable and that at one point in the meeting Moore was close to her she could smell his breath. Johnson (who was 28 at the time) recalls Moore asking if her daughters were as pretty as she was. When Johnson exited the office, she says Moore groped her buttocks.
"He didn't pinch it; he grabbed it," Johnson told the outlet.
Johnson says she was surprised by the assault and would later share details about the incident with her sister. AL.com contacted the sister and she backs up Johnson's statement on their conversation. Court records obtained also show that the custody transfer Johnson went for was indeed signed in 1991. Johnson says she's coming forward now because it's difficult for victims of this behavior to come forward.
"I want people to know that it's OK to finally say something," she said. "I guess I'm ashamed I didn't say nothing, didn't turn around and slap him."