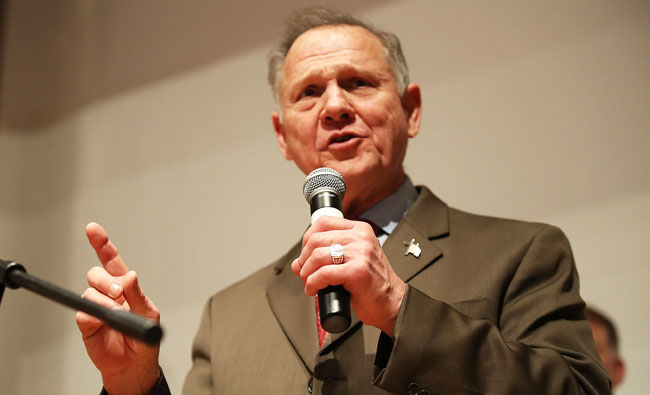 Poor Roy Moore. Embattled, beleaguered Roy Moore. After having lost the Alabama Senate special election to Democrat Doug Jones — which is practically unheard of — it seems as if everyone has turned their backs on the former judge. Even President Donald Trump, who astonishingly continued to support Moore even as over a half dozen women came out and alleged that he preyed on them as underage teens, basically said to stick a fork in it.
Now, Moore has taken to a Facebook post to solicit money for a "legal defense fund" as he claims he faces "another vicious attack from lawyers in Washington D. C. and San Francisco" who have hired a firm in Birmingham to bring legal action against him, and that his expenses could run upwards of $100,000.
The liberal media, in association with some who want to destroy our Country do not want my influence in the 2018 elections and are doing everything they can to stop me.

Gays, lesbians, and transgenders have joined forces with those who believe in abortion, sodomy, and destruction of all that we hold dear. Unless we stand together we will lose our Country.

Christians can no longer afford to remain silent in these "perilous" times. For we know that in such time men shall be come lovers of their own selves, covetous, boasters, proud, blasphemers, disobedient to parents, unthankful, unholy, without natural affection, truce breakers, false accusers, incontinent, fierce, despisers of those that are good, traitors, heady, high-minded, lovers of pleasure more than lovers of God.

We must fight, an appeal to the God of Heaven is all that is left us!
Cool story, Roy. For what it's worth, the top comment on that post currently asks "Anyone know how I can make a donation to the plaintiff?" so we wish him the best of luck with that.
(Via Facebook)