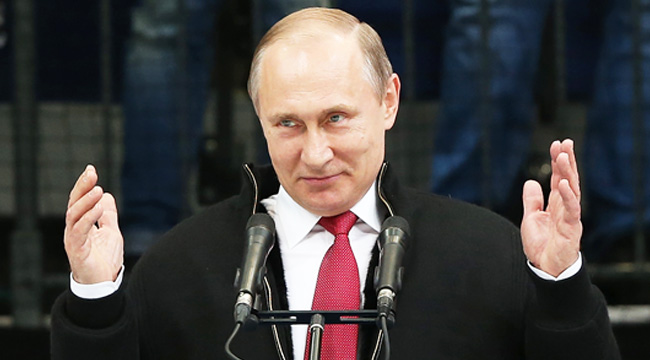 The Russia news won't stop. Within continuing media coverage of the U.S. election hack, outlets are also reporting developments regarding the Russia-Ukraine conflict. This includes how Russia recently figured out how to hack into Ukrainian power grids with one click, "like something in a Hollywood movie." This doesn't bode well for the future, and now, cybersecurity experts are linking Russia's 2014 malware attack on the Ukraine army (to target and kill soldiers) with the malware used to hack the DNC.
The Wall Street Journal has the details from cybersecurity firm Crowdstrike, which investigated the DNC hack and has now discovered a strong tie to the software (an Android implant) used to compromise Ukraine forces:
The malware used in the DNC intrusion was a "variant" of one designed to help locate the position of Ukrainian artillery units over the past two years, the security company, CrowdStrike, said in a report released Thursday. The artillery units were deployed to defend Ukraine following Russia's invasion of Crimea in 2014.

CrowdStrike concluded that the malware used against the Ukrainian military was designed by a hacker group known to security experts as Fancy Bear. The American security firm said the group works for the Russian military intelligence agency, known as the GRU, and was one of two Russian hacker outfits that stole emails from the DNC earlier this year.
CrowdStrike co-founder Dmitri Alperovich now expresses "high confidence" about the Fancy Bear hacking group (which is believed to be behind the DNC hacks) as part of the GRU. This provides yet another bit of evidence to link the election hack to Russia. Interestingly, the Wall Street Journal report arrives with a retrospective view towards Russia's invasion of Crimea, which Trump previously expressed no awareness of. Sort of like he forgot about publicly asking Russia to target Hillary Clinton's emails.
Meanwhile, the U.S. State Department is pushing back at Kremlin claims that diplomatic talks between the two countries are completely "frozen." Spokesman John Kirby says there are clearly "disagreements" but that the lines of communication remain open.
(Via Wall Street Journal & ABC News)