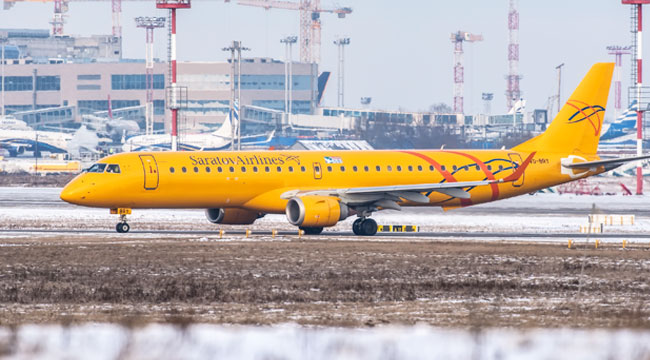 A Saratov Airlines passenger plane crashed southeast of Moscow on Sunday, prompting Russian state media to report that there had been "no chance to survive" for all 71 people aboard. The jet, which departed from Moscow's Domodedovo Airport en route to Orsk, slammed into the ground shortly after takeoff, according to ABC News.
CNN reports that the aircraft disappeared from radar two minutes after takeoff, at which point dispatchers also lost contact with the pilot. At this time, no terrorism is suspected, but authorities have launched an investigation into any possible criminal causes for the crash. Via ABC News:
Russian police are looking at whether criminal negligence could have led to the crash, which suggests the cause is not assumed to be terror-related.

A spokeswoman for Russia's Investigative Committee, which handles serious crimes, told Russian news agencies that it is opening a criminal case to look into possible violations of transport safety regulations or careless behavior resulting in deaths..
The Associated Press reports that fragments from the aircraft, which carried 65 passengers and six crew members, were discovered about 25 miles away from the Domodedovo Airport in the Ramenskoye area, although emergency crews are still working to approach the wreckage.
CNN adds that Moscow and surrounding areas have recently experienced "some of [their] heaviest snowfall in decades," according to correspondent Matthew Chance. However, it's too soon for investigators to determine whether the weather may have been a contributing factor for the crash's cause.
UPDATE #1 – 7:00pm EST: According to CNN, investigators have recovered the plane's flight data recorder and hope it will yield clues. In addition, the aircraft's debris is said to be "widespread" over a radius greater than one kilometer.
This is a developing story, and we will report additional details as they arrive.
(Via ABC News, Associated Press & CNN)