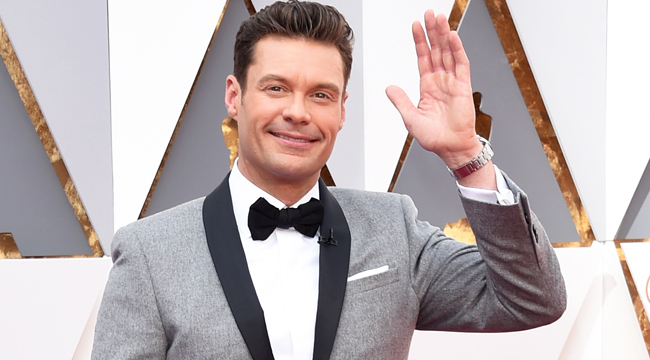 Months ago, a former E! News wardrobe stylist (named Suzie Hardy) of Ryan Seacrest alleged that he "behaved inappropriately" toward her, and this week, she detailed those accusations. Hardy told Variety that Seacrest behaved sexually aggressive toward her — grinding his crotch against her, grabbing her crotch, and slapping her rear — for years. Seacrest denied these allegations while arguing that the woman "offered to withdraw her claims" for money, and E! tells CNN that he'll still be hosting their Oscars coverage on the red carpet because the E! investigation of the matter was "extremely comprehensive and thorough" and cleared Seacrest.
However, Page Six is now reporting that the heated, post-Harvey Weinstein climate has led publicists to fear sending their clients to speak with Seacrest on the red carpet. As a result, they're apparently telling stars to completely avoid him and either speak with E!'s Giuliana Rancic or favor other outlets. If this collective cold shoulder materializes as reported, the effect will provide a stark contrast to previous years:
"Usually Ryan is the one you want . . . but there are so many outlets on that carpet, why risk it? There's plenty of other places for clients to get the exposure," one PR powerhouse told us.

Another PR source said it would depend on the client, but "if it was a [client who had been involved in the #MeToo movement], I would never put them in that position. I don't think any smart person would."
Meanwhile, Entertainment Weekly reports that Seacrest will also continue his hosting duties for Live With Kelly & Ryan while beginning filming this week for the American Idol reboot (both shows for ABC). EW also reiterates that E! found "insufficient evidence" to support his accuser's claims, but on Wednesday morning, Today featured an anonymous former co-worker of the accuser who backs up her sexual harassment claims:
"She would go to tie his shoe and Ryan would shove her head toward his crotch," the former co-worker told Kate Snow by phone. The TV exclusive aired on "Today" Wednesday. "I saw that more than once," he added.

NBC News is withholding the man's name because he still works in Hollywood and fears retaliation.
It appears that although E! considers the matter resolved, the March 4 Oscars ceremony could be a chilly one.
(Via CNN, Page Six, Entertainment Weekly & NBC News)