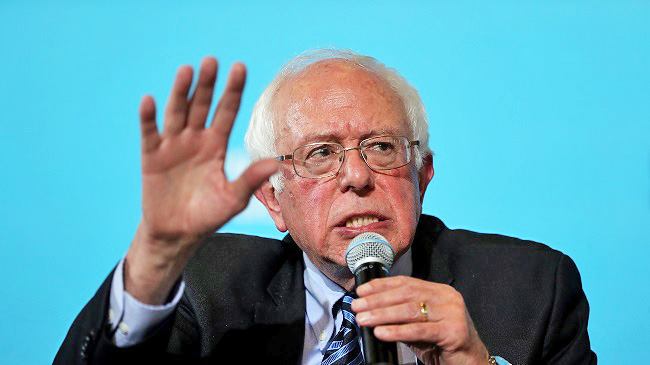 While former presidential hopeful Bernie Sanders did endorse rival Hillary Clinton, the Independent Vermont senator hasn't cowered completely to the Democratic nominee. In fact, the progressive politician has even used the spotlight to occasionally criticize the ex-secretary of state while defending her against things like the Wikileaks email hacks. And if Clinton wins the general election, Sanders promises to hold her accountable for every campaign promise she's ever made — especially the one about overhauling campaign finance spending, which the Democratic Party adopted from Sanders himself.
According to the Washington Post, Sanders admitted he and a few of his Senate colleagues were drafting legislation designed to kick-start various progressive measures championed by his presidential campaign. Things like "a $15 federal minimum wage, tuition-free public college, an end to 'mass incarceration' and aggressive steps to fight climate change," as well as campaign finance spending reform. Sanders was especially incensed regarding Clinton's potential to appoint the "same old, same old Wall Street guys" to certain cabinet positions, saying he "will be vigorously in opposition" and "will make that very clear" throughout her administration.
"The leverage that I think I take into the Senate is taking on the entire Democratic Party establishment, and, you know, taking on a very powerful political organization with the Clinton people. We won 22 states and 46 percent of the pledged delegates, 13.4 million votes… and a majority of the younger people, the future of the country… That gives me a lot of leverage, leverage that I intend to use."
Per the Post's interview with Sanders, the other senators "informally" working to promote these progressive measures and pressure Clinton (should she win) are Sherrod Brown (D-Ohio), Jeff Merkley (D-Oregon) and Elizabeth Warren (D-Massachusetts), the latter of whom campaigned with the Democratic nominee in New Hampshire on Monday.
(Via the Washington Post)