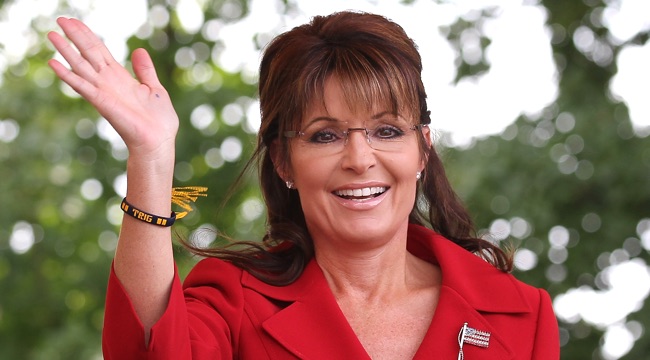 The New York Times has published a piece that details how Sarah Palin is, well, suing the New York Times. The defamation lawsuit revolves around an editorial piece that was published on the same day of the recent shooting at a congressional baseball practice (which injured House Majority Whip Steve Scalise and others). In the legal papers, Palin alleges that the newspaper included a harmful statement about her that it "knew to be false."
The piece in question — called "America's Lethal Politics" — drew connections between a Palin political ad and the 2011 mass shooting at an Arizona town hall meeting, which killed six people and wounded Democratic Rep. Gabby Giffords. The editorial further suggested that the massacre was prompted by political incitement due to the ad's "cross hairs" illustration. Upon complaint from the former VP candidate and Alaskan governor, the paper published a correction, which Palin found inadequate:
The editorial said there was a link between political incitement and the mass shooting in Arizona that severely wounded Representative Gabby Giffords and said that Ms. Palin's "political action committee circulated a map of targeted electoral districts that put Ms. Giffords and 19 other Democrats under stylized cross hairs."

The Times later issued a correction, saying that there was no established link between political statements and the shooting and that the map circulated by Ms. Palin's PAC had depicted electoral districts, not individual Democratic lawmakers, beneath the stylized cross hairs.
As the New York Post points out, the correction was a particularly embarrassing one because the ad's illustration was not as described in the editorial, which was easy enough to disprove. Further, there was no causal link established between Palin's ad and the Giffords shooting because the gunman — Jared Loughner — had grown obsessed with the congresswoman beginning in 2007, long before Palin's ad surfaced.
At press time, the New York Times committed to "vigorously" defending itself against the suit. Below, you can see the lawsuit's first page as posted on Twitter by CNN's Jake Tapper.
(Via New York Times & New York Post)