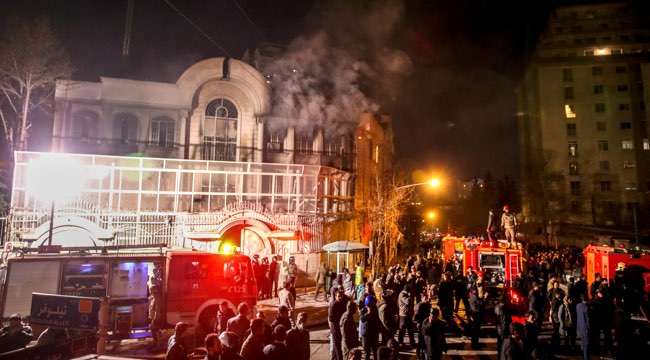 On Saturday, Saudi Arabia announced the executions of 47 people, including dissident Shiite cleric Nimr al-Nimr, who was charged for his statements against the ruling al-Saud family and the government. These beheadings and firing-squad executions signal an inauspicious start to 2016 after the country reached a (two-decade) record-breaking 157 executions in 2015.
The bloodbath, which was carried out in 12 different locations throughout Saudi Arabia, puts forth a strong statement. The majority of the executions involved those convicted for decade-old Al Qaeda attacks, but Nimr and three of the others were Shiite Muslims charged with shooting at policemen during protests. Namir was taken into custody in 2012, and his execution has been met with condemnation. Iran, a Shiite majority nation and regional rival of Saudi Arabia, swiftly criticized Nimr's execution with a statement from the Foreign Ministry's Hossein Jaberi:
"The execution of a personality such as Sheikh Nimr who had no means other than speech to pursue his political and religious objectives only shows the depth of imprudence and irresponsibility."
This statement received a stern, government issued-response to the Iranian ambassador in Saudi Arabia:

"An official source of the Ministry of Foreign Affairs disclosed today that the Ministry has summoned the Iranian ambassador to the Kingdom today and handed him a strong-worded protest note on the aggressive Iranian statements … the Ministry expressed the Kingdom's denunciation and categorical rejection to such aggressive statements."
Regional tensions won't be aided by Saturday's bloodletting, and the world is on alert with media outlets calling the executions "worthy of ISIS." Never mind how lawsuit-hopping mad the Saudi government gets when anyone describes them as "ISIS-like." This tantrum prompted the #SueMeSaudi hashtag, which has persisted for months but has received renewed vigor.
Iran's supreme leader, Ali Khamenei, isn't fretting over repercussions. He posted this picture, which very clearly compares the Saudi government's actions to ISIS.
Back in Iran, the Saudi embassy in Tehran was the target of Saturday night protests. An angry mob set fire to the building with Molotov cocktails after ransacking the structure's interior. Iranian journalist Sobhan Hassanvand was on the scene with a number of photos and videos. Protesters were later taken into custody.