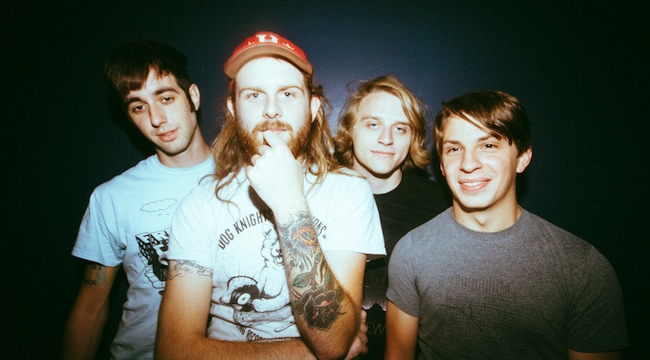 Back in March, Sorority Noise announced that they were going on an indefinite hiatus, but they were back in the news today because frontman Cameron Boucher is facing a rape allegation, which he denies.
Nicole Schoenholz, of One Hundred Year Ocean and formerly of The World Is A Beautiful Place And I Am No Longer Afraid To Die, didn't mention Boucher by name in her accusatory Facebook post yesterday (which has since been deleted), but a user claiming to be Schoenholz responded to a Reddit post about the allegations, "My friend stayed the night with Cam while he was in college and she woke up to Cam f-cking her while she was asleep. This isn't a unique situation or one off 'missed step.'"
Boucher responded to the accusations on Twitter this afternoon, writing that Schoenholz's statements are "false" and "baseless":
I am aware of the Facebook post that Nicole Schoenholz made late last night that has made its way to Reddit and other social media.

I would like to firmly state that her accusations are false.

I take accusations of sexual violence and nonconsent very seriously. Since last night, I have taken the time to have honest conversations with previous intimate partners and given them the room to share if they had any experiences with me that were nonconsensual or disrespectful in any way.

Following those dialogues, I can confirm that the accusations against me are baseless.

Please know I have handled with as much care and respect as possible. Thank you for reading this.
When Sorority Noise announced its hiatus, Boucher wrote that the hiatus "is something I've been thinking about for a few months and I think it's in my heart and mind's best interest to take a break from the band for a while." Beyond that, no other reason was given for the hiatus.
Sorority Noise is currently wrapping up their UK tour, which will conclude on April 19. The band's most recent release, YNAAYT, was released on March 16 via Triple Crown Records.