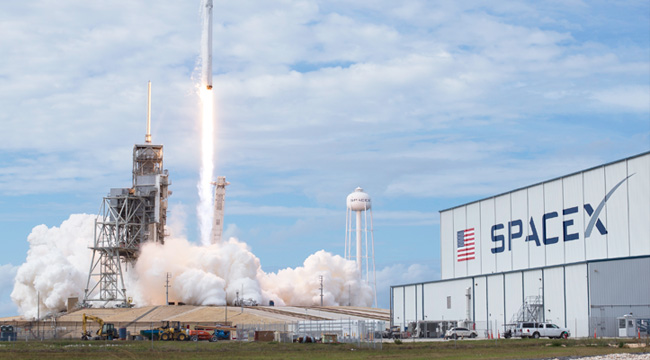 As Hurricane Irma barreled down on Florida on Thursday, SpaceX and NASA launched an unmanned spacecraft and successfully landed their Falcon 9 rocket back to earth. The launch came and went while Kennedy Space Center prepared for Irma to make landfall. While many of the buildings at Cape Canaveral are designed to withstand high winds, some were damaged during Hurricane Matthew last year, so the orders came down to secure any hazardous waste, back up data, and protect electronic devices.
The launch was the first time that NASA used a SpaceX rocket to launch the unmanned X-37B Orbital Test Vehicle (OTV), a 29-foot-long Air Force craft whose purpose is classified. The details of the NASA-SpaceX mission are also classified and, while it's not likely to be related to Irma, SpaceX's live coverage (video below) did not include the actual launch of the X-37B.
However, the Air Force said it was a success:
The military said this mission "carries small satellite ride shares and will demonstrate greater opportunities for rapid space access and on-orbit testing of emerging space technologies."

"Building upon the fourth mission and previous collaboration with experiment partners, this mission will host the Air Force Research Laboratory Advanced Structurally Embedded Thermal Spreader payload to test experimental electronics and oscillating heat pipe technologies in the long duration space environment," the US Air Force said earlier.
According to the US Air Force, "the primary objectives of the X-37B are twofold: reusable spacecraft technologies for America's future in space and operating experiments which can be returned to, and examined, on Earth."