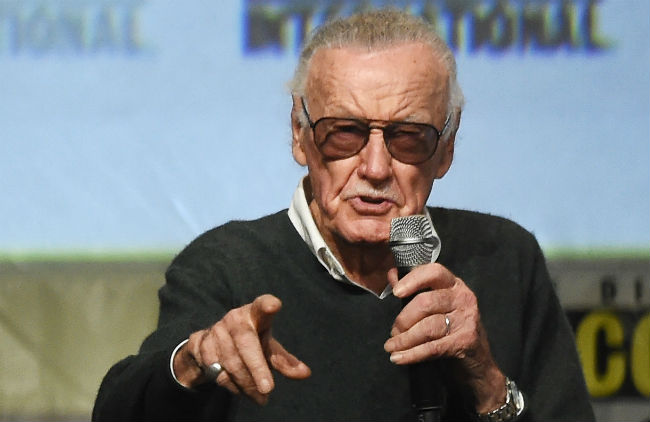 The current situation for Stan Lee has taken several strange twists and turns since the death of his wife in 2017. Apart from health issues and accusations of sexual harassment, Lee has allegedly been the victim of elder abuse and a "war of words" over his fortune according to The Hollywood Reporter. The latest chapter involves Lee's longtime business manager Keya Morgan, with Lee's attorney filing a restraining order against Morgan claiming "elder abuse."
But according to Deadline, things might not be as clear as they seem regarding the order and who has the best intentions:
The 95-year old comic legend and Marvel movie cameo king today saw paperwork filed in LA Superior Court seeking an extension of a prior restraining order against Keya Morgan. Filed by Lee's former lawyer Tom Lallas and without a signature from Lee or a declaration, I've learned that this move came as the icon's current legal reps were about to file their own R.O. request.

All parties anticipated being in court on July 6 for a hearing on today's 43-page filing. Among the various conditions of the R.O. request is that Morgan must stay at least 100 yards away from Lee and his home. The paperwork also states that "Mr. Lee has a large estate worth over $50 million and therefore is vulnerable to financial predators." Fired in February after several years working with Lee, Lallas says in the filing that he "along with law enforcement and Adult Protective Services, believes that Mr. Morgan is unduly influencing Mr. Lee and isolating him."
The move follows Morgan's arrest on June 12th reportedly for filing a false police report stemming from an alleged incident at Lee's residence earlier this month involving gunmen according to The Hollywood Reporter. They add that the current request for a permanent order is an extension of the temporary 48-hour order filed at the time of Morgan's arrest. All of this comes just days after Lee posted this video on social media:
According to Deadline, Lee is now claiming that the appearance above was made "under duress." But that's all, as noted above, as Lee and his daughter's current lawyers were also filing their request for a restraining order. The pair of lawyers, who claim to dually represent Lee and his daughter following the filing of the order, released a statement referencing the situation with Morgan and painted their relationship as a case of Stockholm Syndrome according to Deadline:
"Neither Mr. Lee, who is 95 years old, nor his only child and sole heir JC Lee, will enter into any contracts or commitments of any kind unless pursuant to a written agreement approved by their legal counsel," the statement added, asking Morgan to "leave them alone" after "this nightmare."

"Stan Lee is in good health and great spirits after undergoing a very dangerous ordeal, the specific details of which are still being investigated," Schenck and Freund noted. "Stan Lee is resting peacefully back in his home of over 30 years after having been moved to an undisclosed location late Friday night / Saturday morning by Keya Morgan."

"Stan Lee is excited to get back to "business as usual" once he recovers from his recent ordeal, during which he felt compelled to take actions and make statements out of fear for his and his family's personal safety. Stan and his family ask his fans and well-wishers to respect his privacy as the LAPD and the Los Angeles District Attorney office work with over 30 eye witnesses to discover the details of his recent interactions with Keya Morgan."
Morgan and Lee appeared together on the red carpet for the Avengers: Infinity War premiere on April 24th, followed by a strange set of tweets supposedly from Lee claiming his social media accounts had been hijacked and he was going to be posting himself from then on. It's hard to pinpoint exactly what is truth and what might be fiction in this situation, but it is clear that the 95-year-old is at the center of a situation that he undoubtedly shouldn't be in. If anything, Stan Lee should be enjoying the rest of his life far away from a courtroom or lawyer's office.
(Via The Hollywood Reporter / Deadline)