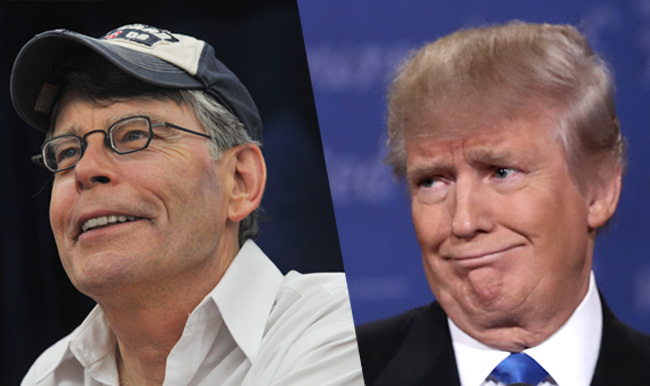 Stephen King has not held it tongue when it comes to politics in 2016. Not only has he shared some very honest words about Maine Governor Paul LePage and his take on minorities, but he's also talked about how Donald Trump as president scares him to death. This is a man who has faced death, faced addiction, and faced whatever he's written in his books and he still believes that Trump is frightening. I don't know if I can fully agree, but it's funny when Mr. Spooky is all afraid.
His latest salvo against the GOP candidate for president was an idea for a new horror story. It isn't too far off from reality, but King apparently didn't need much more:
It's the fan response that truly got creative, tossing Trump into some of those classic King stories we've grown to love over the years.
If Trump is anybody from the King canon, I would peg him as Barlow from Salem's Lot. Night stalker, possibly sleeping in a box, terrorizing villagers. It all sounds like a Trump night to me, especially if there is "beautiful" in the area. He can't help himself. And as a bonus treat, here's King discussing some more Trump and a little bit of Hillary with The Washington Post. He even acknowledges that the current election has already been written in one of his books via The Dead Zone. A lot of folks have cited it during the campaign, from the missiles flying to the baby human shield. Given his relationship with children and his stance on nuclear weapons, neither could be far off.