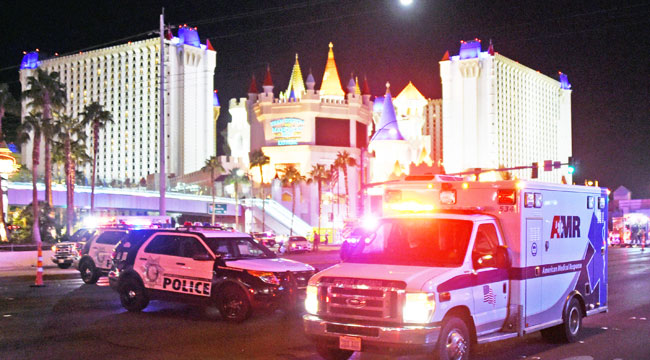 On Sunday night, a gunman — who has since been identified as Stephen Paddock — killed at least 58 people outside the Mandalay Bay Hotel on the Las Vegas strip. The attack also resulted in another 515 people injured, both from the shooting itself and the resulting stampede. The number of victims killed during this massacre now surpasses the 49 murdered in the June 2016 Pulse nightclub shooting, thereby qualifying this as "the deadliest in modern U.S. history." Paddock was pronounced dead by Las Vegas police in his hotel room. Here's what we know about him:
Who Is The Gunman? Paddock, a 64-year-old white male, is believed to have carried out his attack alone, beginning at around 10:00pm local time. His "companion," a 62-year-old Asian woman named Marilou Dannley, was located for questioning at around 3:40am local time. The two lived together in Mesquite, Nevada (about 80 miles from Las Vegas). Here's a photo of Stephen Paddock, which has been circulating on social media.
The Las Vegas Metro Police Department tweeted this photo of Dannley while they searched for her overnight. She has now been cleared by police of any involvement, and she was not with Paddock at the time of the massacre, for she was out of the country.
This is a developing situation, and we will bring more details as they arrive.
(Via Las Vegas Metro Police Department, CBS News, CNN, NBC News & The Telegraph)