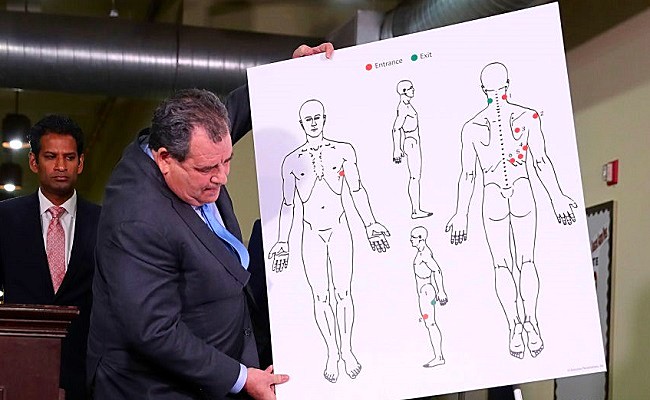 According to an independent autopsy ordered by the family of Stephon Clark, the unarmed black man who was shot and killed by Sacramento police, he was shot eight times, mostly from behind or from the side. What's more, the autopsy determined that Clark did not succumb to his wounds immediately, instead dying after three to 10 minutes. As the New York Times and others are reporting, the study's conclusions have raised questions about why Clark "was not given more immediate medical care after the shooting," during which time police apparently muted their body cameras.
Information previously released by the Sacramento Police Department revealed that two officers had fired more than 20 times at Clark when they confronted him in his family's own backyard. The autopsy conducted by Dr. Bennet Omalu, the medical examiner contracted by the family's lawyer, determined that eight of those bullets hit their mark:
According to Dr. Omalu, Mr. Clark was shot four times in the lower part of his back, twice in his neck, and once under an armpit. He was also shot in the leg. One of the neck wounds was from the side, the doctor found.

"You could reasonably conclude that he received seven gunshot wounds from his back," Dr. Omalu said at a news conference on Friday. He added that each of those seven shots could have had a "fatal capacity" and described severe damage to Mr. Clark's body, including a shattered vertebrae and a collapsed lung.
In a separate statement regarding the independent autopsy, Benjamin Crump, the family's attorney, said Dr. Omalu's findings "contradict the police narrative that we've been told." What's more, he added, "Our autopsy has shown that he was shot repeatedly in the back — which is certainly not characteristic of someone menacing officers or preparing an imminent attack."
(Via New York Times)