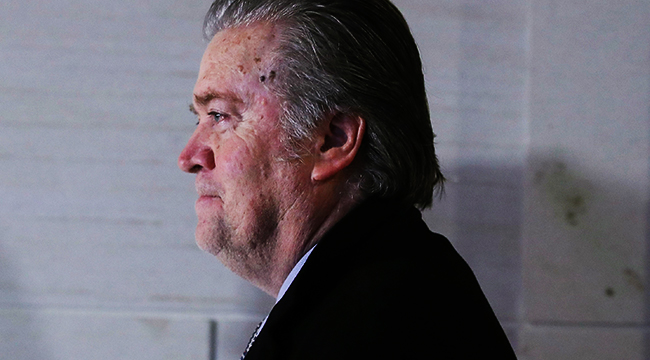 Steve Bannon, former White House strategist, has spent most of the new year dodging congressional subpoenas and refusing to answer questions, while negotiating some form of deal with Robert Mueller's probe into Russian election interference. He has managed to avoid going in front of a grand jury in the Mueller probe. But what's interesting is just how much, apparently, Bannon has had to say.
NBC News is reporting that Bannon has spent up to twenty hours across the last several days being interviewed by Mueller and his staff, while simultaneously refusing to speak with the House Intelligence Committee:
Bannon spent a total of some 20 hours in conversations with the team led by Mueller, who is investigating possible collusion between the Trump campaign and Russia as well as other issues that have arisen around the probe…Bannon appeared Thurday in closed door hearings before the House Intelligence Committee, but the session was brief. Bannon only answered 25 questions and refused to discuss events that took place after the 2016 presidential election, including the transition and his time inside the White House.
Bannon, of course, has publicly stated, most notably in the Michael Wolff book Fire and Fury, that Donald Trump Jr. committed treason by speaking with Russian operatives in June 2016 and that Jared Kushner may be exposed due to some business dealers Bannon described as "greasy." Bannon seems convinced that, ultimately, the case will resolve around charges of money laundering.
What remains curious is Bannon's refusal to interact with the House Intelligence Committee, which Bannon insists is due to Trump claiming executive privilege over certain aspects of the questions. The committee appears to be seriously considering filing contempt of Congress charges in order to compel Bannon to testify, and that may, in turn, spark a war over executive privilege. It also leaves Washington wondering what Bannon is willing to be so voluble about with Mueller, and why he claims up in the face of serious legal risk.
(via NBC News)