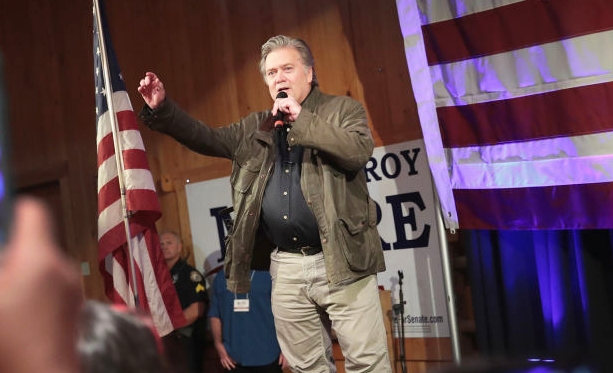 Steve Bannon rallied for Roy Moore amidst a group of loyal supporters of the former judge in Alabama, one week ahead of his senate race against Democrat Doug Jones. Bannon's intense and unwavering support was for a man who was not only removed from the bench in 2003 for an ethics violation but also was forced to resign after another half-dozen ethics violations led to a suspension when he was re-elected to the bench in 2016.
Now, after running against the Trump-backed Luther Strange for the Alabama Senate seat earlier this year, he's finally garnered the support of the GOP and Donald Trump after being accused of sexual misconduct for preying on at least nine teenage girls over the years.
And so, his rally was filled with chants of "USA! USA! USA!" as a protestor called him a "theocratic bigot" while Bannon spent much of his time bashing Mitt Romney for not serving in the military (despite Donald Trump or his children never spending time in the armed forces).
The whole of the internet, from card-carrying Republicans (outside the state of Alabama) to the contingent that regularly holds Bannon to the flames are astonished that the GOP has fallen this far. An accused pedophile has the full support of the White House and the GOP.