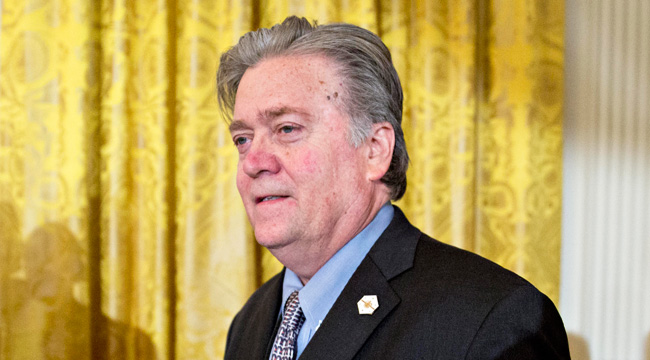 Former White House Chief Strategist Steve Bannon recently accused Don Jr. of "treason" for his Trump Tower meeting with Russians, but he walked back that claim after President Trump's attorneys threatened legal action. Now, the spurned-yet-still-proud nationalist (who also testified in front of the House Intelligence Committee in a closed-door Tuesday session) has received a legal notice of a different type. That is, Special Counsel Robert Mueller has subpoenaed Bannon to testify in the Justice Department's Russia probe.
While it's generally not worth getting riled up about a mere subpoena, this move is a significant one, as the New York Times explains:
The move marked the first time Mr. Mueller is known to have used a grand jury subpoena to seek information from a member of Mr. Trump's inner circle. The special counsel's office has used subpoenas before to seek information on Mr. Trump's associates and their possible ties to Russia or other foreign governments.
Will Steve Bannon go scorched earth on Trump while testifying about possible collusion with Russia? He could every motivation to do so simply because he's lost everything at this point. Trump fired him, and after Bannon gave extensive quotes to author Michael Wolff, the president told the world that that Bannon "lost his mind." That doesn't even account for Trump's "Sloppy Steve" dig, some prominent far-right figures turning on him, and Bannon losing his Breitbart job.
In other words, Steve Bannon has nothing to lose and (possibly) everything to gain, especially if he leverages this testimony as a negotiating tactic over any potential charges against himself. Also interesting — Bannon reportedly received this subpoena last week, and he looked pleased with himself while entering the House on Tuesday. That's the expression of a man with a plan.
(Via New York Times)