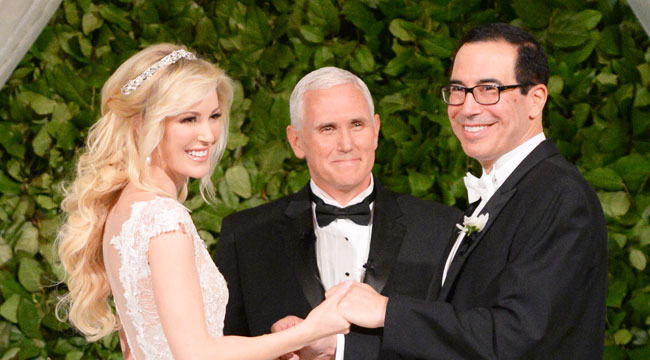 In late August, Treasury Secretary Steven Mnuchin (and his wife, Louise Linton) came under fire for reportedly using a government plane to view the solar eclipse. Not helping matters is how Linton had recently belittled someone on Instagram for not being as rich as her, and Linton later issued a few apologies (one while wearing an extravagant ball gown in a society magazine). Well, the criticism has begun anew for the couple because ABC News reports that Mnuchin requested another government plane for his June European honeymoon with Linton.
Amazing, right? Now, the Treasury Department's Office of Inspector General has launched a formal inquiry into the matter, for Mnuchin wanted to use the jet to travel to Italy, France, and Scotland on the taxpayer's dime. The Suicide Squad producer is worth $300 million and put this request into writing:
Officials familiar with the matter say the highly unusual ask for a U.S. Air Force jet, which according to an Air Force spokesman could cost roughly $25,000 per hour to operate, was put in writing by the secretary's office but eventually deemed unnecessary after further consideration of by Treasury Department officials.
Needless to say, Mnuchin's receiving some criticism, including from Senator Ron Wyden (D-OR) of the Senate Finance Committee. Wyden frankly wonders what on earth the treasury secretary could have been thinking. "You don't need a giant rulebook of government requirements to just say yourself, 'This is common sense, it's wrong," Wyden commented. "That's just slap your forehead stuff." Indeed.
(Via ABC News)