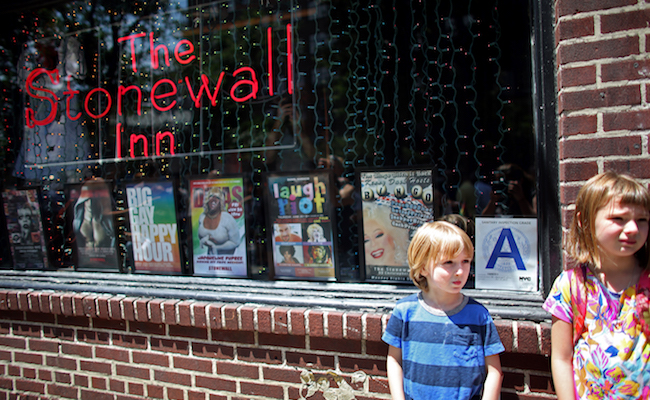 The Stonewall Inn in New York City is already a historic landmark. The scene of protests and riots against police raids of gay meeting spaces in 1969, the bar has a long history of being an important part of the human-rights movement for those who identify as LGBT. And now the bar is about to become even more important: Reports are coming in that President Obama will designate the Stonewall Inn as the first national landmark dedicated to the movement to give equal rights to individuals who aren't heterosexual.
Buzzfeed reports that the site could be deemed a national monument as early as next month. It will join more than 400 other sites that have been deemed important due to their "national or historic significance." What this means, if the proposal to turn The Stonewall Inn into a national monument is accepted, is that the location's legacy will be protected and that a small park would go in around the area.
Obama has repeatedly mentioned the significance of the Stonewall Inn, including during his second inaugural address in 2013. The site was dedicated as a New York City landmark last year, and lawmakers have lobbied the Obama administration for national park status.
While this move may be seen as controversial by some, it's also an important way of making it clear that the battle for equal rights regardless of sexual orientation plays an important role in the history of our country. The riots that took place in June of 1969 were just the beginning of progress that has included anti-discrimination protection for gays and lesbians, the legalization of same-sex marriage on a federal level, and laws that now allow openly gay men and women to serve in the military. According to The Associated Press, marking the Stonewall Inn as a national monument will also be a step in continuing to fight for the rights of transgender individuals in America (who are now facing a great deal of discrimination due to legislation that bars them from using the bathrooms that coincide with their gender identity).
President Obama is expected to make his plans known at a public meeting on Monday. He is already being applauded by LGBT groups who are proud to have their story become an official part of American history.