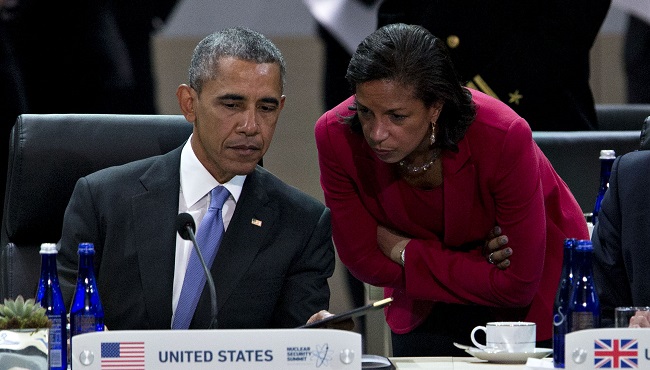 As the ongoing congressional probe into possible points of collusion between Donald Trump's campaign and Russian officials has grown, so too have other scandals largely reported and repeated by conservative and right-wing outlets. Case in point, then President-elect Trump's baseless claims that President Barack Obama's administration had wiretapped Trump tower during the 2016 election. Those who bought into the controversy were especially incensed by Obama National Security Advisor Susan Rice's requests that some Trump aides' identities be "unmasked," or revealed, to a select group of government officials.
Rice and others with knowledge of the matter denied any wrongdoing, but that didn't stop Rep. Devin Nunes (R-CA) from mounting a crusade against supposed wiretapping on the Trump administration's behalf. Nunes' efforts were ultimately discredited, and according to a new Bloomberg report, the president's own national security advisor recently cleared Rice of any wrongdoing:
Not everyone agrees that what Rice did was improper. She was after all receiving much new intelligence about Russia's role in the election, some of which suggested coordination with Trump associates. National Security Adviser H.R. McMaster has concluded that Rice did nothing wrong, according to two U.S. intelligence officials who spoke to me on condition of anonymity.
McMaster, who replaced Michael Flynn after his alleged Russia connections created a public furor, also composed a letter indicating Rice would have "unfettered and continuing access to classified information" en lieu of the typical "need-to-know" requirement placed on such things. The undated and unclassified letter, which was obtained by Circa, addressed Rice directly and updated her on McMaster and the White House's evaluation of the "unmasking" controversy.
Unsurprisingly, Fox News personality Sean Hannity and other ardent Trump supporters weren't too happy.