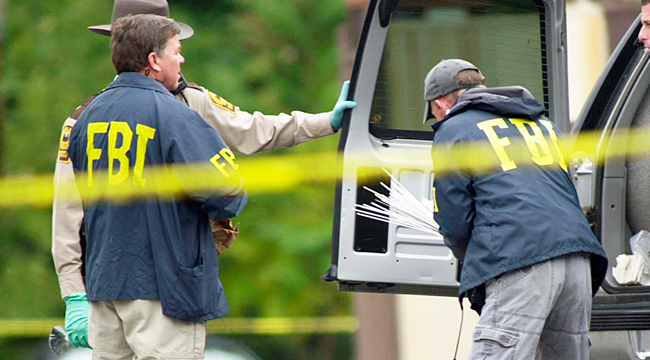 The week after serial bomber Mark Anthony Conditt killed himself with an explosive device (and left a confession video) after terrorizing Austin, Texas for weeks, the D.C. area has now seen a scattering of suspicious packages. NBC Washington reports that several of boxes — containing unsettling contents — were discovered at multiple military and intelligence installations on Monday.
All of the packages differed, although some of them included "disturbing" and rambling letters, and some of them held components used to make explosives. In particular, the package that which arrived at the National Defense University at Fort McNair in D.C held black powder, residue, GPS, and a fuse (according to CNN), although it was eventually rendered safe. Several other sites were targeted with other packages containing bizarre contents:
Suspicious packages were sent to two sites at Fort Belvoir in Virginia Monday afternoon: The National Geospatial-Intelligence Agency and another defense university. One contained liquid in a vial and a circuit board, the law enforcement official said. It also was rendered safe.

Similar suspicious packages were found at Joint Base Anacostia-Bolling in D.C., a CIA mail processing facility, a White House mail processing facility and Dahlgren Naval Air Station in Virginia, NBC News Justice Correspondent Pete Williams reported. Those were all cleared as well.
Officials do not believe that these packages are connected in any way to the serial bombings in Austin, and the FBI has taken all of the packages and their contents into custody for further investigation. Lt. Col. Michelle Baldanza, a spokesperson for the Defense Department, revealed that no one was injured by any of these packages, although the facilities remain on high alert.
(Via NBC Washington & CNN)