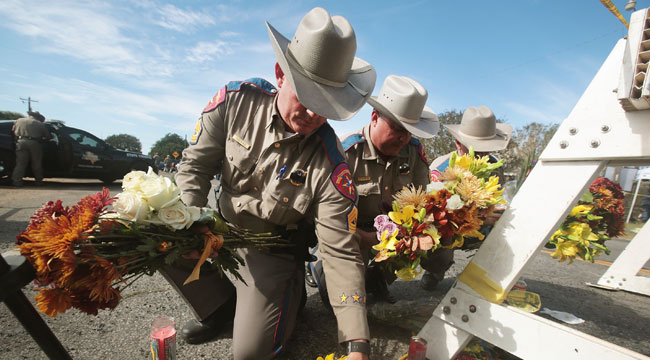 One week after Devin Patrick Kelley allegedly committed the deadliest church mass shooting in U.S. history in Sutherland Springs, Texas, investigators are still digging through evidence. That would include the gruesome video footage (discussed by the New York Times) that reportedly shows Kelley methodically shooting his victims in the head, execution style. Meanwhile, church officials say that this coming Sunday will see an emotional return for parishioners following last weekend's bloodbath.
Yes, only seven days after the massacre, the First Baptist Church will hold a service. CNN reports that the "undeterred" congregation obviously won't be able to hold the event inside the church building itself, which was rendered "uninhabitable" after its walls, doors, and windows were destroyed by bullets. The service will instead take place within the next-door community center, and other churches in the surrounding area have committed to helping the congregation pass this hurdle:
Pastors from around the area are organizing [the service], and Frank Pomeroy, First Baptist's pastor, is scheduled to speak.

Pomeroy was traveling with his wife on the day of the shooting and was not at the church, but his daughter Annabelle, 14, was. She died in the shooting, along with 24 church members and an unborn child.
Within the church building itself, Kelley reportedly fired 450 rounds from his AR-15 style rifle. He shot many of his victims more than once, and the New York Times reports that the massacre lasted around seven minutes. It's not yet known whether the congregation will attempt to repair the building, or whether they'll tear the building down and start fresh. Yet this weekend, they'll come together with a much more immediate goal — to begin the healing process, even while funeral homes throughout the community are helping families prepare to bury roughly 4% of the town's population.
(Via CNN & New York Times)