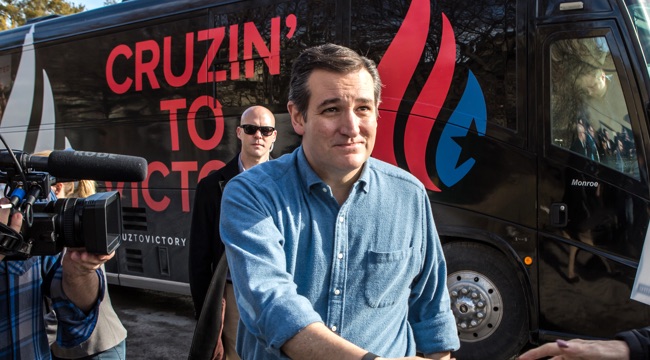 Ted Cruz may be the most awkward man in America, but he comes by it honestly. Cruz was both a megalomaniacal teen and a Supreme Court clerk who would elbow wildly on the basketball court while screaming, "My bad!" Although he's the second-place GOP candidate, those who know him won't say anything nice. His voters enjoy his bloodthirsty ways, for he loves the death penalty and wants to "carpet bomb" swaths of Syria. Cruz doesn't have a plan for these actions, but he likes the way they sound. This is why folks have no problem believing Cruz may like the way Nickelback sounds, too.
Indeed, Cruz and his Canadian tuxedo are the master of awkward moves. He famously uploaded raw footage of himself coaching his family through political ads, which showed how the entire Cruz family appears uneasy. Mind you, I'm not suggesting that Cruz's family dislikes him, just that he's the most embarrassing dad ever. No one wants to hug their father in public, but Cruz forced an embrace with his daughter. This is a terrible moment when Cruz could have stopped before it was too late, but he kept going. Must. Hug.
Awkward. This is a great moment to relive last week's debate when the other candidates ignored Cruz during their onstage "mingling" moments. Check out how Cruz pokes Jeb Bush, who simply keeps on walking.
Yes, people noticed.
In addition, Cruz upset some Iowans last week by sending out "voter shaming" pamphlets. After learning about people's reactions, Cruz responded, "I will apologize to nobody for using every tool we can to encourage Iowa voters to come out and vote." Trump fans are loving this.